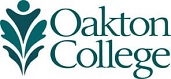 Bukola "Bukky" Abdulwahab-Omotose
Oakton Ambassador, Scoring Machine
How do you find your way from Nigeria to Oakton Community College?
For Bukola Abdulwahab-Omotose, known by his friends as "Bukky," you follow the black and white bouncing ball, pursuing his dream of playing soccer, and one day reaching the professional ranks.
"In Nigeria, I would play soccer anywhere I could," he says. "We would make a soccer field using sticks and chairs or play on concrete. I've been playing the sport as long as I can remember and learned a lot about soccer from my older brothers. We would play up to six hours a day or until it got too dark. I took so much pride in playing and it was a family joke that if my grandmother was in goal, I would shoot right past her and not have any pity."
Abdulwahab-Omotose grew up in Llorin, the state capital of Nwara and went to prep school 300 miles away in Abuja at the British Nigerian Academy. 
"I came to the U.S. because there are so many different levels of soccer that you have more time to develop your skills. In Nigeria, you must be good enough to go from high school to international competition, there is very little opportunity in between."
On the soccer field, Bukky was Oakton's leading scorer in 2018 with 58 points (24 goals, 10 assists), which ranked him fourth in the nation in goals scored. The prodigious output led to being named to the 2018 United Soccer Coaches Junior College Men's Division I All-America Team, the National Junior College Athletic Association (NJCAA) All-Region IV Men's Soccer Team, and the Illinois Skyway Conference All-Conference Men's Soccer First Team.
Now thanks to his experience at Oakton, Bukky will be taking his talents to the University of Illinois-Chicago (UIC) Flames, an NCAA Division 1 program.
Although playing soccer professionally is his ultimate dream, his backup plan is something he is also gifted in—politics. At Oakton, he studied political science and plans to major in the subject at UIC. He had the opportunity to practice his people skills as an Oakton student ambassador and tour guide.
"Talking to new students and their families shows that my opinion matters and helps me with my public speaking," he says about his job. "I love interacting with others and encouraging them to come to Oakton. I can relate to visiting students, especially international students. As an ambassador, I try to make everyone feel comfortable and tell them how good the education is here."
He appreciates the close relationship between students and faculty at Oakton and says his professors actively helped him succeed.
Bukky earned his associate degree at Oakton and looks forward to playing soccer at the next level.