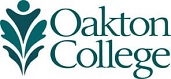 Nestor O'Brien
A Call to Serve
Nestor O'Brien has found the right combination of support and training in Oakton's Law Enforcement and Criminal Justice program.
Nestor O'Brien has pretty much always known he's wanted to work in law enforcement.
"I like the fact that I can be a part of the community and be around people," he says.
His first taste of the profession came as a participant in the Police Explorers Program in his hometown of Des Plaines. From there, it was just a matter of figuring out the best way to turn his dream into a career. As a first-generation college student, he knew reaching his goal wouldn't come without challenges.
O'Brien credits Oakton for helping to clarify his path to success. Academic advisors helped him create a plan to complete Oakton's Law Enforcement and Criminal Justice program.
"The program had everything I needed. It fit my schedule, it was flexible, it was affordable," he says.
The flexibility was particularly important, allowing him to juggle a full load of classes along with a full-time job as a sworn auxiliary officer for the Rosemont Public Safety Department. That, combined with the support and mentorship he receives from faculty members is helping him to acquire the skills he needs to protect and serve.
O'Brien appreciates the way technology is used in Oakton's Law Enforcement and Criminal Justice program. That includes video technology developed by NASA that is incorporated into forensics courses — as well as simulators that allow he and other students to experience real life situations that police officers regularly encounter.
"It's not just lectures and taking notes," O'Brien says. "You learn what officers do, because your professors were officers — they did the job."
O'Brien is on track to complete the program in fall 2020. After that, he plans to become a full-time officer, ideally in his home community of Des Plaines. He will also pursue an EMT certification from Oakton — to further enhance his ability to serve his community.
"Even on their worst day, I want to be there for people," he says.