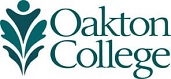 Shaira Pascua
Finding her voice
From her first year at Oakton, Shaira Pascua has felt at home here. She was familiar with the Des Plaines campus thanks to an older brother who graduated in 2015. In her first semester, she got to know the college even better as a student ambassador and tour leader. 
Becoming familiar with a new place is something Pascua learned at an early age. Her family came to America from the Philippines when she was in third grade, and she was forced to become accustomed to a new country, a new school, and a new (much colder) climate. She was already fluent in English because her parents spoke both languages of the Philippines—Tagalog and English—at home.
"My parents have worked hard to give us the best education possible. They came to America with the dream of many immigrant families—to provide better opportunities for their children," she says.
Pascua believes she is an introvert by nature but enjoys pushing herself to become more comfortable in front of an audience. Her education at both Maine West High School and Oakton has helped her to be more outgoing.
"I have always been involved in performance. I did theater, musicals, and fine arts. I also play viola and sang in both the choir and an a cappella group in high school," Pascua explains. "We had a choir master who challenged us to learn many types of songs, different kinds of music, and gave us exposure to many different languages in our song choices."
Undoubtedly, these experiences have influenced her choosing communications as her area of study and impacted her career interest in becoming a speech pathologist.
"Finding my own voice has been one of the most important things I learned in music," she says. "I think it would be a great career to help those who—through injury, illness, or handicap—are struggling to find their voices."
An outstanding student, Shaira came to Oakton as a Wentcher Scholar. The Wentcher Foundation provides full tuition scholarships to help highly-talented students from the Chicago area pursue higher education at colleges and universities across the United States.
She was such a good student that she could have gone anywhere, but "I chose Oakton because I thought it was more important to choose the best opportunity possible and to help my family. Choosing my 'favorite university' wasn't as important to me."
Pascua is taking full advantage of student life at Oakton as a member of PAYO, the Philippine club at Oakton, and is an honors student. In the honors seminar, she enjoys the discussion-based class that forces students to have their own opinions and be able to defend them in spirited class discussions.
"It has pushed me to be more aware of what's happening in the world, to care more about the plight of others, to assess my own values, and speak up to defend them," she explains.
Shaira Pascua has not only found her voice. She is using it.