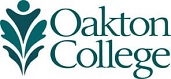 Donor & Scholar Recognition Brunch
On Saturday, Nov. 4, the Oakton Education Foundation hosted its Donor and Scholar Recognition Brunch at the Des Plaines campus. This was the first time in many years that the event was hosted on campus, and the first time that it took place on a Saturday morning. The turnout was remarkable, with close to 400 guests in attendance – including more than 300 scholarship recipients and 60 donors.
Oakton alumni Ammar Elmajdoub was the keynote speaker. Now a researcher at the U.S. Army Engineer Research and Development Center, Elmajdoub talked about how his Oakton scholarship impacted his life – helping to pay his tuition, and to buy his first car, which saved him from a 1.5-hour daily commute. This allowied him to get a job while still having the time to focus on school.
President Smith recognized 10 new scholarships awarded for the 2017-2018 academic year, including the Niles Township Government Scholarships, established by the Niles Township Trustees in support of graduates from Niles North and Niles West who demonstrate financial need and enroll at Oakton immediately after graduation.
The morning was an exhilarating and touching celebration of those who give meaning to the work of the foundation. We are inspired by the hard work and dedication of our students, and forever grateful to our donors for their passion for student success and generosity that never fails to humble us.
Back, from left: Sung Jun Choi Jong, keynote speaker Ammar Elmajdoub, Director of Enrollment Services Cheryl Warmann, and Cody Jones
Front, from left: Dwayne Johnson, David DeCoursey-James, and Oakton President Joianne Smith
Back, from left: Kenneth Mathew, Adrian Miezin, and Mariusz Miezin
Front, from left: Alisa Singer, John Oberman, and Foundation President Howard Singer
Back, from left: Alec Larson, Isis Montalvo, Niles Township Clerk Charles Levy, Niles Township Trustee Mark Collins, Niles Township Attorney Van Schwab, Niles Township Superintendent Marilyn Glazer, Susan Audicho, and Amaar Amin
Front, from left: Sabrina Kajani, Sneha George, and Alexandra Moshi
Back, from left: Jon Kiser, Chelsea Kiser, Cristina Mihalopoulos, and Savina Mihalopoulos
Front, from left: Oakton Trustee Joan DiLeonardi, Oakton Trustee Martha Burns, Hannah Abrudeanu, and Daniel Abrudeanu
Back, from left: Sabrina Kajani, Fatima Kajani, Juan Montaho, and Isis Montalvo
Front, from left: Foundation Director Alyse Burman, Jeff Burman from the Education Foundation Supporting the Students from Niles Township, and Mark Collins from Niles Township Government
Back, from left: Tsolmon Batbold, Jody Wadhwa, Robert Audino, and Irma Steinemann
Front, from left: Foundation Treasurer Murray Sprung, Arla Sprung, and Julius Steinemann
Back, from left: Steve Sainsbury from Rivers Casino, Alison Horton, and Maverick Horton
Front, from left: Carla Sainsbury, Cindy Rico, and Gabriel Chacon
Back, from left: Dominika Pinkiewicz, Karlynn Buccola, Karen Buccola, Vice President of Information Technology and Data Analytics Bonnie Lucas
Front, from left: Foundation Vice President Puamuh Ghogomu, Mead Montgomery, Anne Montgomery, and Stuart Sondheimer
Back, from left: Student Life Program Assistant Simi Khurana, Student Government Association Delegate Kevin Hilliard, and Mohammed Azam
Front, from left: Lisa Fischer, Jan Footlik, and Mohmmedhuze Joly
Back, from left: Michael Stangel, Margaret Stangel, John McHugh, Pat McHugh, and John Yenter-Briars
Front, from left: Katie Stangel, Abigail Afriyie, and Brian Fitzpatrick from the Wentcher Foundation
Back, from left: Marius Filip, Medina Kazimi, Cynthia Beltran, Robert Boone from the Seabury Foundation, and George Aday
Front, from left: Sue Boone and Frances Zeddies