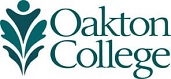 Library Services for Faculty and Staff
Interlibrary Loan during COVID-19
If you cannot find the item you are looking for in our catalog, e-book collections, or databases, you can request it from other libraries. Simply fill out one of the forms below. Physical items received will first be quarantined for 5 days before being made available for curbside pickup.
Library Information Literacy Program
The Library Instruction Program is responsible for student instruction in information literacy. Learning opportunities are offered in person and online. In keeping with the Oakton Library's mission of "encouraging critical thinking, promoting information literacy, and providing innovative teaching," our program faculty provide access to the quality education described in the college mission where we seek to facilitate student learning and curiosity. We understand the information landscape to be a bewildering place for many people and endeavor to make that landscape navigable and familiar to students in our classes.
With guidance from The Framework for Information Literacy for Higher Education, we challenge students to move through "portals to enlarged understanding" of information generally and within their disciplines so that they might become creators of information as well as users. Information literacy, like other disciplines, is informed by politics, privilege, and structures of power and recognizing this is an integral part of our pedagogy. Information literacy skills are not linear or simple and are constantly evolving based on need, motivation, tools, and more. We seek to support students, staff, and faculty at all levels of ability. For more information, please visit our Library Information for Faculty research guide.
Request Library Instruction
The Oakton Library faculty will teach research skills and concepts tailored to the goals of your research assignments using asynchronous and/or synchronous (based on how your course content is delivered) learning materials including research guides, tutorials, videos, discussion boards, chat reference, and more. We encourage you to collaborate with a librarian on an information literacy assignment which we can accommodate as part of your request.
To schedule library research instruction session for your class please complete the form below. 
Request: Library Research Instruction Form
Coordinator: Martinique Hallerduff, mhallerduff@oakton.edu
Request Embedded Library Instruction for Your Online Class
The Oakton Library faculty will provide library research instruction and support tailored to the goals of your online class research assignments within your D2L course. Embedded librarians work closely with you and your online class by preparing asynchronous content for your students using posts and/or a research guide that includes videos, text, links to databases, eBooks, and/or other resources. The librarian is embedded into your D2L course and can use the Discussion Board and D2L as a means of communicating with your students.
The embedded librarian program is limiting participation to instructors we have worked with prior to Fall 2020 until further notice. To schedule an embedded librarian for your class please complete the form below.
Request: Embedded Library Instruction Form
Coordinator: Julia Fraas, jfraas@oakton.edu
How to Get Your Oakton Library Card
To apply for a digital library card/Owl ID, please fill out and submit our Library Card Request Form. Students must be registered for classes in a current or future semester to apply. We will send you a digital copy of your library card within 4 business days to you via email. You can show your digital card at the library to get a physical card once we reopen. If you need to have a physical card now, you can request it on the form. It will take up to 2 weeks for the physical card to be mailed to you off campus.
Top 5 reasons for Faculty, Staff, and Administrators to get an Oakton Library Card:
Check out and renew books
Check out videos for 4 weeks for free
Borrow books from over 90 other academic and research libraries in Illinois
Use as an ID at Oakton's Fitness Center
Request and renew materials online
Be a role model for Oakton students 
How to Place Books and Other Items on Reserve in the Oakton Library
Books, articles, and other materials may be placed on Reserve at the Circulation Desk for the semester in which students will need them. Copyright restrictions may apply to the placement of photocopied articles on Reserve. Copyright permission forms are available in division offices.
For more information on how to place materials on reserve, please call:
Des Plaines: 847.635.1642
Skokie: 847.635.1432
How to Borrow an Item from Your Oakton Campus Library
Take the book, DVD, kit, etc. and your Oakton Library card to the Des Plaines or Skokie Campus Library Circulation Desk. Staff will check it out for you.
How to Borrow an Item from the Other Oakton Campus Library
You can borrow an item directly from the other campus library using the Oakton Community College Library Catalog and your Oakton Library card. The easiest way to do this is to ask at the circulation or reference desk for assistance. If you need help requesting books, please call 847.635.1642 or 847.635.1432.
How to Borrow an Item Online from Other Academic Libraries in Illinois
Oakton Community College students and faculty may request interlibrary loan items from other CARLI member libraries through the I-Share Catalog by using their Oakton Library cards (CARLI is the acronym for Consortium of Academic and Research Libraries in Illinois.) If you need help requesting an item, please call 847.635.1642 or 847.635.1432. The library staff will call you when your item arrives at the campus library where you requested it to be sent. To pick up your item, please visit the circulation desk with your Oakton Library card.