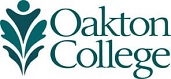 Library Services for Non-Credit Students
How to Get Your Oakton Library Card
Non-Credit Students can apply for a physical or digital card online using our library card request form. We will send you a digital copy of your library card within 2 business days to you via email. You can show your digital card at the library to get a physical card. If you need to have a physical card now, you can request it on the form. You can request to pick it up during counter services times or have it mailed to you. It will take up to 2 weeks for the physical card to be mailed to you off campus. 
Grab 'n' Go Services
You can fill out our Grab 'n' Go form to have the item(s) you have requested online in our catalog to be checked out, bagged, and placed on our library's Grab 'n' Go table. You can retrieve your items during counter services hours.
Counter Services
The library is now opening its doors during specified hours of service to provide staff assistance for students and employees in the vestibule of the library at the circulation desk counter. The rest of the library will be closed to the public.
The following services are provided:
Grab 'n' Go pickup of items
Check out of materials on hold or requested
Items retrieved on request from the collection at time of service
Acceptance of returned materials
Pickup of Library Card/OWL ID (must apply for card online)
Pay fines with cash or check