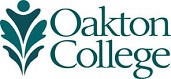 About the Library
The Oakton Library is an essential part of the instructional program of the College. The Library provides selected general and specialized print and online resources in support of the College's curriculum. The online resources are available to students on the College's campuses as well as to online and off-campus distance learners.
The Oakton Library offers access to a collection of over 106,000 books, a selection of databases totaling over 68,700 online journals and magazines, and a browsing collection of 50 print periodical titles. The Library is also a selective depository for U.S. government documents. An Oakton Library card is required for checking out books and materials. Students, staff, administrators, and faculty use their myOakton username and password for off-campus access to online resources, including OaktonOneSearch, the library's version of EBSCO Discovery Service, currently in development . District residents are provided access and limited circulation privileges to the Library's collection.
At both the Des Plaines and Ray Hartstein/Skokie Campuses, and to students in online courses, the Oakton Library staff offers circulation and interlibrary loan services through over 85 member libraries of the Council of Academic and Research Libraries in Illinois (CARLI) and OCLC, the international interlibrary loan service. More information about the range of library services can be obtained at the reference desk at either campus.
Oakton Community College Library Locations
Oakton Library - Des Plaines Campus (DP)
1600 E. Golf Rd.
Des Plaines, IL 60016
(847) 635-1642
Oakton Library - Ray Hartstein/Skokie Campus (RHC)
7701 Lincoln Ave.
Skokie, IL 60077
(847) 635-1432