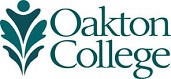 Oakton Foundation receives nearly $50,000 for Niles Township student scholarships
(Dec. 23, 2016) The Board of Trustees of Niles Township recently contributed a check for $46,500 to the Oakton Community College Educational Foundation to support scholarships for students from Niles Township in 2017.
"We are grateful for the generosity of the Niles Township Board. Through their generosity, students from Niles North and Niles West with a 2.5 GPA who demonstrate financial need will be able to attend Oakton full time and have the cost of tuition, fees and textbooks covered," Oakton President Joianne Smith says, noting Oakton's low cost of attendance--approximately $3,570 per year. "The Niles Township Board is investing in our collective future by supporting these students."
Approximately 2,300 Oakton students hail from the communities that make up Niles Township. The "Niles Township Government Scholarship" awards $3,570 per year to 13 students who graduated from Niles North or Niles West High Schools.
Niles Township Supervisor Marilyn Glazer adds, "The Township Board understands the challenges many local families face trying to send their children to college. These scholarship funds will be used to help District 219 students meeting economic requirements realize their dreams of higher education."
All applicants for the scholarship will be vetted by Oakton's scholarship committee, comprised of Oakton trustees, faculty, staff and directors of the Oakton Educational Foundation. Committee members read and score application essays, and the Office of Student Financial Assistance compiles the scores and determines the scholarship winners.
Niles Township Trustee Mark Collins initiated the Niles Township College Scholarship Fund, and the Education Foundation Supporting the Students of Niles Township was instrumental in putting Niles Township, Oakton and its educational foundation together to benefit student scholarships.
The director of the Education Foundation Supporting the Students of Niles Township, Alyse Burman, who also serves on the Oakton Educational Foundation Board, says, "I am thrilled that we were able to put this valuable connection together between Oakton Community College and the Township for the benefit of our students."
The "Dedicated to D219 Students Scholarship," a separate scholarship created by The Education Foundation Supporting the Students of Niles Township, awards four $1,500 scholarships each year to graduates of Niles West or Niles North who received free- or reduced-lunches while in high school and who enroll at Oakton immediately following graduation. Unused funds from this scholarship will be carried over to the following year.
All scholarship recipients will be recognized at the Oakton Educational Foundation's annual donor and scholar recognition banquet each fall. Scholarship winners can re-apply for the scholarship each year they attend Oakton.
For more information or to apply for either the "Niles Township Government Scholarship" or the "Dedicated to D219 Students Scholarship," visit oakton.academicworks.com.