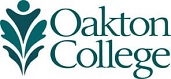 Oakton receives accolades for financial reporting
(June 27, 2017) Oakton Community College has received national recognition for its financial reporting and budget presentation practices by the Government Finance Officers Association (GFOA), a non-profit professional association serving more than 17,600 government finance professional throughout North America.
The GFOA recently presented Oakton with three prestigious honors – the Distinguished Budget Presentation Award, the Certificate of Achievement for Excellence in Financial Reporting (CAFR) and the Popular Annual Financial Reporting (PAFR) Award.
"We're proud to receive these awards as they are major accomplishments," said Oakton Controller Andy Williams. "Residents of the college district should look at these reports as an indicator that Oakton is implementing best practices as an organization."
Oakton received the Distinguished Budget Presentation Award for its presentation for the fiscal year ending June 30, 2017, marking the 21st year the college has earned the distinction. The award is the only national honor of its kind and highlights an organization's commitment to meet the highest principles of government budgeting. To receive the award, public agencies must meet nationally-recognized guidelines that specify how well the budget serves as a policy document, financial plan, operations guide and communications tool.
The CAFR is judged by an impartial panel to meet the high standards of the program, which includes demonstrating a constructive "spirit of full disclosure" to clearly communicate its financial story and motivate potential users to read the CAFR.
The PAFR provides a snapshot of an organization's financial performance and major initiatives as well as an overview of trends in the local economy. Above all, the report represents a commitment of an organization to inform members of the community about its finances.
Oakton received both the CAFR and PAFR for the fiscal year ending June 30, 2016.
"All of this financial information helps Oakton leaders to make informed decisions," said Williams. "In addition, the GFOA sends backs comments on how to make improvements in financial reporting. We take these suggestions from leading practitioners to heart to make enhancements to our financial documents."