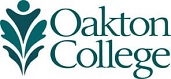 Oakton Offers Summer Basketball Camp for Boys and Girls
(June 5, 2017) Boys and girls from kindergarten through high school freshmen can hoop it up this summer by attending the Oakton Community College basketball camp Monday through Thursday, June 19 - 22, at the Des Plaines campus, 1600 E. Golf Road.
Coached by experienced Oakton athletic staff and student athletes, the four-day camp features two sessions divided by grade level entering fall 2017:
9-11 a.m., Kindergarten through fourth grade—Learn the fundamentals of ball handling, shooting, defense, rebounding, and team concepts.
11:30 a.m.-2:30 p.m., Fifth through ninth grade—Gain hands-on experience in advanced skill work, including game shooting, off-the-dribble offense, and instructional game play.
All participants receive a camp T-shirt.
The registration fee is $50 per participant, and proceeds support Oakton's basketball programs. For more information or to register, contact Mick Reuter, men's basketball coach, at 847.635.1753 or mreuter@oakton.edu, or Melissa Rauschenberg, women's basketball coach, at mrausche@oakton.edu.