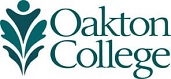 Oakton's Tech Director Wins Coveted Jeff Award
(June 8, 2017) Oakton Community College Performance Arts Technical Director Anthony Churchill earned a Joseph Jefferson "Jeff" Award for projection design at the 44th Annual Non-Equity Jeff Awards at the Athenaeum Theatre June 5.
Churchill designed the set and projections for the Stage Left Theatre production of "The Body of an American," which ran for two months at Theater Wit in Chicago.
"I was totally blown away and surprised about winning," Churchill says. "This is a great honor and nice to be acknowledged for work I am extremely proud of accomplishing. I'm usually behind the scenes and have to admit I was a bit nervous being on stage to accept the award."
The award-winning play had another Oakton connection: Jason Fleece, a theater instructor at the college, directed the production. "The Body of an American" focuses on two men bonding over their individual regrets to overcome past ghosts.
"It's no surprise that Tony has won the Jeff Award," says Chair of Performing Arts John Frisco, professor of speech and theater. "As a dedicated and talented technical director, Tony has been designing quality productions for Oakton for the last 13 years. Tony is an innovator and always conceives designs that are fresh and unique. We are honored and privileged to have Tony as part of Oakton's faculty, staff and design team."
Churchill oversees the Oakton Performing Arts Center tech crew, which provides students hands-on experience in carpentry, metal and plastics, scenic art, electrics and automated lighting, state-of-the-art digital sound production, new media and special effects while working on a team throughout the year. This experience is a crucial element for students studying stagecraft and performance technology and often leads to work in professional fields.
"We are delighted to learn that Tony has been honored by the greater Chicagoland theatrical community for his considerable skills in projection design," says Linda Korbel, dean of languages, humanities and the arts. "At Oakton, he has created amazing designs for dozens of productions and shared his considerable 'real world' experience with theater students and tech crew members, inspiring many of them to pursue careers in the field."
Tech crew alumni have gone on to study at four-year institutions and work in professional scenic houses, staging unions, rigging companies and other technical positions throughout the country.  
The Jeff Awards have honored outstanding theatrical artists each year since 1968. With as many as 55 members representing a wide variety of backgrounds in theater, the Jeff Awards Committee is committed to celebrating the vitality of Chicago-area theater by recognizing excellence through its recommendations, awards and honors. The Jeff Awards foster the artistic growth of area theaters and theater artists and promotes educational opportunities, audience appreciation, and civic pride in the achievements of the theater community.