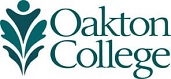 Oakton Among NASA Robotics Mining Competition Top 15 Again
(June 20, 2017) The results are in: Oakton Community College finished 13th overall in the 2017 NASA Robotic Mining Competition at Florida's Kennedy Space Center, marking the fourth straight year the team finished among the top 15. Oakton robotics finished second last year, eighth in 2015 and 12th in 2014.
"In this contest there is no room for hubris," said Angelo Gero, electronics and computer technology lecturer and team advisor. "The message to all top ranked teams from last year was, 'Hope you enjoyed your 15 minutes of fame, now get back to work if you want to want to do as well or better next year.'"
Oakton fielded a completely new robot design in the 2017 contest and had only one veteran from the prior year.
Given those variables, and the fact that they left the Skokie campus without a working robot, the team performed better than expected.
"We really beat the odds," Gero said. "The team really came together and got the robot to perform when it counted."
The 15-member team—comprised of students enrolled in an engineering independent study course taught by Gero—included Amena Ahmed of Skokie, Niles resident Sanjida Choudhury, Sean Fitzsimmons and Alex Golik of Glenview, Northbrook residents Chris Han and Daniel Kita, Szymon Mirek of Des Plaines, Declan Mulroy of Glenview, Sean Nixon of Lincolnwood, Luke Paltzer of Skokie, Stephen Rodriguez of Mount Prospect, Peter Solomon of Skokie, Jeremy Stymacks of Niles, Diana Stypula of Northbrook and team leader Lynette Sugatan of Niles.
"I think our team did well given the circumstances," said Sugatan, who participated on last year's second-place team. "We pulled through, and we're excited for next year once we work the kinks out."
According to Gero, the same general robot design will be used again next year, and the team will perform diagnostics to see where the robot can be improved.
The annual NASA competition pits undergraduate and graduate students from colleges and universities in a design-build-operate contest in which each team's remote controlled robot tries to outmaneuver the others by navigating a simulated, chaotic Martian terrain and excavating rock fragments, known as regolith. The robot that mines the most regolith in the allotted time wins. Points are also scored for the scientific presentation of the team's technology and the use of social media to create public excitement around the competition.
Oakton's score included a fourth-place finish in outreach, finishing .75 points behind Embry-Riddle Aeronautical University. Oakton also finished in sixth place in the systems engineering category.
"What is interesting is that in systems engineering, Oakton's team outranked all other area schools, including U of I Urbana-Champaign, which has always done very well in this category," Gero noted.
Complete results are posted on the NASA website:  www.nasa.gov/sites/default/files/atoms/files/rmc2017_scoresummary.pdf.