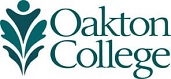 Bulgarian president tours Oakton campus during visit to language school
(Sept. 26, 2017) Oakton Community College hosted the Bulgarian head of state the afternoon of Saturday, Sept. 23, when President Rumen Radev—fresh from meetings at the United Nations—visited students at the John Atanasoff Bulgarian Language School, which operates from the college's Des Plaines campus on Saturdays.
"President Radev was genuinely interested in the idea of a college that serves the local community," said Oakton President Joianne Smith, who met briefly with the president and his spouse, Desislava Radeva, and Minister of Foreign Affairs Ekaterina Zakharieva before their tour of the language school and college. "He seemed impressed with how the college provided the infrastructure needed to support the heritage schools in the community."
The Bulgarian Language School is one of several heritage schools that call Oakton home. It has been housed at the Des Plaines campus since 2010 and serves approximately 120 students.
"According to members of the Bulgarian delegation, the area has the largest population of Bulgarians outside of Bulgaria itself," Smith added. "As the community's college, we embrace the many cultures that make up the district we serve. We know that approximately 50 different languages are spoken in the homes of our students, and Oakton welcomes all of them. The cultural schools are an extension of this and are an important part of serving these communities."
Oakton also hosts Chinese, Mongolian and Georgian cultural schools at its Des Plaines and Skokie locations.
"Building positive and sustainable relationships such as ours with the Bulgarian Language School and the other heritage schools that call Oakton home are an important component of our college's relationship with the residents and organizations that make up our district. By crossing the boundary between the college and the community, our community partners become key stakeholders in the college," Smith said.
As part of his visit, President Radev toured parts of the college and visited nine different classrooms with children aged preschool through eighth grade.
"It meant a lot for the president and his wife to visit with our children," said Oakton Human Resources Benefits Specialist Sunny Novakov, a parent of two students in the Bulgarian Language School. "I am proud to have been a part of the visit and am proud of the relationship Oakton has with the John Atanasoff Bulgarian Language School and our community. It was a great day."