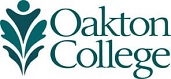 Don't miss 'Cabaret' at Oakton's Footlik Theater Oct. 5-8, 12-15
(Sept. 15, 2017)  "Cabaret," a tragic love story featuring iconic Broadway tunes and a relevant message, will be presented Oct. 5-8 and Oct. 12-15, at Oakton Community College's Footlik Theater, 1600 E. Golf Road, Des Plaines.
Based on the play by John Van Druten and stories by Christopher Isherwood, "Cabaret" is set in 1930s Berlin and revolves around performers at the Kit Kat Klub who choose to live a carefree life, ignoring the political upheaval as the Nazis take over Berlin and the rest of Germany. The club serves as a metaphor for these ominous political developments as the story follows young American writer Cliff Bradshaw and his relationship with English cabaret performer Sally Bowles.
"The play deals with a group of people trying to retain a sense of normalcy as the world changes around them," says director Jason Fleece, a theater instructor at Oakton. "This production is relevant as 'Cabaret' has a lot of connection to whats happening in our world today as different people are being persecuted just for who they are."
Opening night is 7:30 p.m. Thursday, Oct. 5, with a special $5 preview. Regular performances are 8 p.m. Friday, Oct. 6; 8 p.m. Saturday, Oct. 7; and 2 p.m. Sunday, Oct. 8. The play concludes its run at Oakton the following week with shows at 7:30 p.m. Thursday, Oct 12; 8 p.m. Friday Oct. 13; 8 p.m. Saturday, Oct. 14; and 2 p.m. Sunday, Oct. 15.
Tickets are $12 for general admission, $10 for students and seniors and $8 for groups of 15 more. Purchase online at www.oakton.edu/tickets or call 847.635.1900.