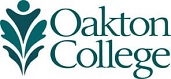 Oakton volunteers to participate in day of service Sept. 29
(Sept. 15, 2017) Oakton Community College students, staff and faculty will be donating their time by engaging in the college's annual day of service on Friday, Sept. 29. The day of service builds upon momentum from last year when more than 100 members of the Oakton community helped various local nonprofits.
From 9 a.m. to 2 p.m., Oakton volunteers from its Des Plaines and Skokie locations will be assisting organizations such as the Salvation Army and Historic Methodist CampGround in Des Plaines in addition to the Emily Oaks Nature Center in Skokie.
Oakton volunteers will provide support at the Wall that Heals, a traveling half-size replica of the Vietnam Wall in Washington, D.C., which will be erected at the Lake Park Memorial Pavilion in Des Plaines. At the memorial, service opportunities include greeting visitors and assisting with the names of loved ones in the registry and on the wall.
Oakton's day of service also includes providing aid for the homeless, gardening and restoring ecological areas. As part of these efforts, volunteers will assist in harvesting Oakton's community garden, which supplies organic food to the Maine township food pantry.
"Oakton is dedicated to teaching students to become more civic minded and responsible citizens in the community," says Karen Roth, Oakton instructor and service learning coordinator. "Once you become involved in any service experience, you're going to want to keep giving back."
Roth also said Oakton faculty have been very helpful in encouraging students to participate by offering extra credit and including the day of service in course syllabi.
"This is also an opportunity to assist diverse populations and for students to apply concepts they're learning in the classroom to real-world experience," Roth says, noting Oakton photography students are planning on documenting the healing wall as a service learning activity.
The day of service is sponsored by the college's Offices of Student Life; Service Learning; Advising, Transition, and Student Success and Access, Equity and Diversity.
For more information, contact Roth at kroth@oakton.edu or 847.376.7247.