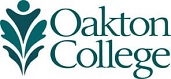 Oakton partners with Pearson for affordable course materials
(Oct 26, 2017) Oakton Community College announced it has joined more than 450 educational institutions in partnering with Pearson to deliver significant cost savings to students with first-day-of-class access to digital direct course content.
"Equity matters at Oakton," says Juletta Patrick, Oakton assistant vice president for student affairs and dean of access, equity and diversity. "The college has long explored ways to make access to a college education and educational resources more affordable for students."
Oakton piloted its Digital Direct Access (DDA) program in the fall 2017 semester with 300 students enrolled in the BUS 101 "Introduction to Business" course. Students in those class sections received first-day-of-class access to Pearson's MyLab Intro to Business online homework, tutorial, and assessment content and technology.
"Oakton Community College is dedicated to educating, empowering, and transforming our students," says Director of Business Services Doreen Schwartz, who will present on the institution's successful implementation of digital delivery as part of Pearson's "Transition to Digital Summit: Digital Made Simple" at the 2017 EDUCAUSE Conference on Oct. 30. "Student success is our top priority, and we share in Pearson's commitment to accessibility, affordability, and achievement."
Based on the positive feedback from its students and faculty members, Oakton is planning to expand the number of courses that leverage the program for the spring 2018 semester. Computer Information Systems Department course will be provided with immediate access to Pearson's MyLab IT.
"We know that many students often delay or completely forego purchase of required course materials to save money. We are honored to partner with Oakton Community College to improve access, affordability and achievement for more students by harnessing the power of digital technology to deliver course materials that enhance the teaching and learning experience," says Pearson Senior Vice President of Partnerships Tom Malek.
According to a Pearson press release, the DDA model is part of the company's ongoing commitment to making college more accessible and affordable for students, establishing equity in access to critical course materials. Pearson announced a two-step plan to address the issue of college affordability earlier this year, immediately reducing the prices of 2,000 e-book titles by as much as 50 percent. The second phase of the effort ensures that students can rent popular print titles online and in-store through trusted retailers. This rental-only model allows Pearson to reduce prices by up to 60 percent and ensure that all students have access to affordable textbooks.
"We are very pleased to partner with Pearson to offer digital direct access to our students, and we plan to continue expanding the DDA offerings at the college," Schwartz says.