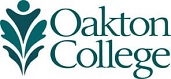 Oakton men's golfer Blaha Skyway Medalist of the Year; Owls eye national championship
(Oct. 4, 2017)  Oakton Community College men's golfer Chris Blaha (Hoffman Estates, Conant High School) is the Illinois Skyway Collegiate Conference (ISCC) Medalist of the Year, ranking first of all golfers in the eight-team league with his 74.5 average.
"This honor feels so good after all the hard work I put in all season," Blaha says. "I'm very ecstatic to represent Oakton as golfer of the year."
Louis Walker, Oakton men's golf coach, says Blaha's drives were a huge part of his success.
"Chris constantly hits the ball over 300 yards off the tee, putting himself in good position from the start," Walker says. "His overall performance was extremely impressive, and he definitely earned it."
Other Oakton golfers stood out in league play, as two Owls finished among the ISCC's top 10. Stephen Bukieski (Niles, Schaumburg High School) boasted a 75 average to take second, and Clay Fisher (Northbrook, Glenbrook North High School) finished sixth with his 79 average.
Overall, the Owls took second in the conference behind College of Lake County in a league that also includes Elgin Community College, McHenry County College, Moraine Valley Community College, Morton College, Prairie State College and Waubonsee Community College.
"First place would have been nice, but second is still an accomplishment," says Walker. "Our golfers are very talented and should feel good about themselves. It was definitely an incredible season to have three of the top golfers."
Blaha was medalist at the recent NJCAA Region IV Classic held Sept. 29, at Senica's Oak Ridge Golf Club in La Salle. He took the top spot over approximately 60 golfers shooting par (72) at the 18-hole, 6,900-yard golf course.
"I shot under par under all the par 5's, and that was key to my success," Blaha says.
Blaha and the rest of the Oakton golfers return to Oak Ridge Oct. 5-7 to compete in the NJCAA Region IV Regional Golf Tournament. The top two teams will qualify for nationals scheduled in Gulf Shores, Alabama, in May 2018. In addition, the top five golfers not on the top two teams are eligible to compete in next year's tournament.
"Our players are on fire right now," says Walker. "My expectations are for our team to qualify or have individuals represent Oakton in Alabama."
Blaha knows that he can't rest on his laurels heading into the upcoming tournament.
"I'm confident because I'm playing at the same course I medaled at recently," he says. "However, I can't slack off and get too cocky. I just need to be determined and help my teammates stay focused."