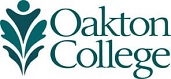 Oakton Owls golfer qualifies for national championship
(Oct. 16, 2017) For the second straight year, Oakton Community College sophomore golfer Stephen Bukielski (Niles, Schaumburg High School) has qualified for the National Junior College Athletic Association (NJCAA) Division II Men's Golf Championship, May 21-24, 2018, Glenlakes Golf Club, Foley, Alabama.
Bukielski qualified for nationals by his performance at the NJCAA Region IV Tournament, held Oct. 5-7, at Senica's Oak Ridge Golf Club in La Salle. During the rainy and windy conditions, Bukielski gutted out a 77 average to finish seventh overall. The top five golfers from teams finishing as high as third place are allowed to participate in nationals as individuals.
Weather played havoc on the regional tournament, as the 50 golfers from 11 area colleges were forced to play 54 holes in two days, instead of the scheduled three.
"The conditions were extremely challenging," says Bukielski. "I knew I just had to play as well as possible and plug through the elements. I've played in bad weather before, and one time in high school I played a tournament in snow."
"Gritty and grindy are the words that best describe Steve's performance," says Louis Walker, Oakton men's golf coach. "Steve and the other golfers had to play the whole tournament during winds of over 25 miles per hour. Those are not easy conditions to play in with such huge stakes on the line."
 Bukielski is hoping to build upon his performance in the 2017 national tournament in Mesa, Arizona.
"Last year when the tournament was held in Arizona, I finished in the middle of the pack," says Bukielski. "Now that this is my second time around, I have more confidence and want to represent Oakton well. In 2017, I was out there pressing myself. This year, I plan on playing my best while having fun."
Adds Walker, "Having that experience from before will only benefit Steve. I expect him to do very well when the tournament rolls around in May."
Oakton sophomore Chris Blaha (Hoffman Estates, Conant High School) may also earn a berth to nationals as a second alternate.