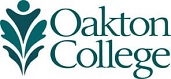 Higher Learning Commission reaffirms Oakton accreditation
(Jan. 22, 2018) Oakton Community College received notification from the Higher Learning Commission (HLC) that its accreditation has been reaffirmed for 10 years, with the next reaffirmation in 2027-28.
Oakton's reaccreditation is the outcome of a meticulous internal evaluation that included a student survey, community engagement and culminated in completion of an assurance argument and site visit by an HLC external peer review team in September 2017. The college also filed an extensive federal compliance document and Quality Initiative Report with the commission.
"I commend the Oakton community—faculty, staff, students and administrators—for a successful HLC peer review," said Oakton President Joianne L. Smith, noting the level of engagement in the process. "Accreditation is one way the college publicly demonstrates its commitment to quality and its willingness to be held externally accountable to all we serve. It was clear to our reviewers that we live our mission of providing a quality education throughout a lifetime, empowering and transforming our students in the diverse communities we serve."
Vice President for Academic Affairs Ileo N. Lott praised all those who worked on the college's assurance argument, noting the work done by committee members.
"I am very proud that one of the things our evaluators noted is that our faculty and staff are fully engaged in actualizing our mission. We have an unwavering commitment to providing an amazing academic experience, and it showed," Lott said.
As part of its accreditation, the college has interim reports due in March and December in addition to a report in December 2019.
Founded in 1895, the HLC is one of six independent regional accreditors in the United States. The HLC accredits higher education institutions located in the 19-state north-central region, validating the quality of an institution across multiple criteria related to academic offerings, governance and administration, mission, finances and resources.