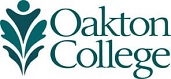 Oakton's apprenticeship program offers a pathway to debt-free education
Des Plaines, Ill. (Nov. 23, 2021) – Oakton Community College student Juan Martinez has a clear pathway to graduating debt-free from the College – through the College's Apprenticeship Program.   

The program allows students to work part-time in a high-demand field and earn a salary while also completing a certificate or degree at Oakton. The employer pays tuition and fees. After completion of their Oakton credentials, students typically receive full-time employment at their apprenticeship site.

Martinez, a Chicago resident, recently started his mechatronics apprenticeship at Chicago Glue & Machine in Itasca. His goal is to finish his associate degree and continue working with the manufacturing company.

"Being part of this program has been a life-changing experience for me," says Martinez, 34. "The things I learn in class are often applicable to my work, giving more purpose to my education. I'm glad that Oakton supports such a program. I think that not nearly enough people are aware of the advantages that apprenticeships provide. It's up to me to ultimately succeed. However, it's a huge benefit to have assistance from people who have my best interest in mind and the resources and experience to help me."

Oakton's apprenticeship program, typically a three-year program with a two-year work commitment at completion, started in 2018. The Industry Consortium for Advanced Technical Training (ICATT), an innovative leading apprenticeship program in the Midwest for high-tech manufacturers, sponsors most apprenticeships. Oakton's first apprenticeship student, Dung Lee, a Skokie resident, completed the College's first apprenticeship last spring for DRiV Incorporated, a global supplier of innovative commercial vehicle products and services.

Oakton students celebrated the official signing of their 2021 apprenticeships at a virtual ceremony held on Nov. 15, which also coincided with National Apprenticeship Week. 

Students who signed on for ICATT apprenticeships this year also include:


Yumna Farooqui (Morton Grove) for Vetter Development Services
Ozzie English (Lincolnshire) for Stanley Spring & Stamping Corporation
Fotios Kalemis (Niles) for KNUTH Machine Tools USA 

We're excited about this program because an apprenticeship is an excellent way for Oakton students to get a high-quality education and work-based learning experience," says Shannon McKenzie, Internship and Apprenticeship coordinator. "The program is also great for companies as they can develop a sustainable pipeline of skilled workers and increase employee retention."

"We see apprenticeships as the future," says Tom Jaynes, director of operations at Chicago Glue & Machine. "This partnership with Oakton allows us to develop our own talent and provide students with meaningful work. I love the program."

For more information about the program, contact apprenticeships@oakton.edu or (847) 376-7165.