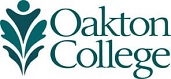 Oakton students earn top honors at ISCC Writers Competition and Festival
Des Plaines, Ill. (Jan. 5, 2022) Two Oakton Community College students recently placed first in the Illinois Skyway Collegiate Conference (ISCC) 2021 Writers Competition and Festival.
Nicole Bim of Glenview won first prize in the Drama category for "Sandbox Readings" and Matt Sharp of Niles captured the top spot in Creative Nonfiction for "False Cities."

"Writing is a process and can provide an author with lots of angst getting through multiple revisions until they get the right words," says Tina Fakhrid-Deen, Oakton Creative Writing professor. "These wins are a testament that the process works, effort is key, and their beautiful stories resonate with a wider audience. Bravo to all of the participants of this year's competition."

Winners were glad their stories resonated with a panel of writing judges.

"My piece was about two young teenage girls that grew up with family trauma and how their bond allowed them to grow and become more aware of life lessons," says Bim. "Winning the top spot with my first entry in a writing competition was a step of encouragement and reassurance that my work means something to others. I'm proud I stepped out of my comfort zone and shared my writing with the world."

Sharp also submitted writing that was close to his heart.

"My story is very personal as it was a piece that I submitted about my experience with depression, anxiety and suicide," he says. "It was a reflection of those experiences and an emotional exercise for me."

In addition, Mitch Ganz of Chicago took third place in Drama with his entry "Spark."

Students from ISCC member schools submitted more than 80 works for this year's competition, which was held at College of Lake County. Bim, Sharp and Ganz were recognized for their accomplishments by the Oakton Community College Board of Trustees at its December meeting.

Registration for spring 2022 is open and classes begin Jan. 18. New and returning students are eligible for three free credit hours of tuition.