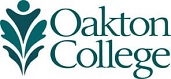 Fitness Center
Work out in style! Oakton's state-of-the-art Fitness Center offers everything you need to stay toned and fit. Whether you're interested in becoming a member or taking a fitness course we'll help you stay active and healthy.
Located at Oakton's Des Plaines campus, the Fitness Center features some of the latest workout equipment—including more than 20 strength and conditioning machines, a warm-up area and lounge, and fully equipped locker rooms. Experienced, certified staff members will be happy to advise and assist you whenever the Center is open.  
Oakton students or employees can join the Fitness Center at a reduced cost. We also offer a variety of fitness-related classes that count toward the associate's degree.
Questions? Please contact us. We'd love to tell you more about what the Fitness Center can do for you. Download the Fitness Center brochure (pdf file).
Hours: Open year round, except when the College is closed.

Monday - Thursday: 7 a.m. - 7:30 p.m.
Friday: 7 a.m. - 6 p.m.
Saturday: 9 a.m. - 1 p.m.
Summer Hours
Monday - Thursday: 7 a.m. - 9 p.m.
The College is closed on Fridays, Saturdays and Sundays from the beginning of June through the middle of August.