Oakton hosts Distinguished Alumni Awards ceremony, Sept. 29
Des Plaines, Ill. (Sept. 20, 2022)
– The public is invited to celebrate Oakton College's newest Distinguished Alumni during an event on Thursday, Sept. 29. Four individuals will be recognized for the positive impact they've made on their communities near and far, following their time as Oakton students.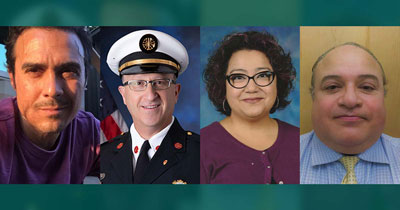 This year's honorees are:
Julian Serafin Gil '97, Kabul, Afghanistan
Alan J. Berkowsky '91, Morton Grove, IL
Deyanira Cardenas 1999-2006, Des Plaines, IL , and
Samuel J. Lopez '05, Schaumburg, IL
Berkowsky enjoyed a 40-year fire service career, including 17 years as Fire Chief of the Evanston Fire Department (2004-2010) and Winnetka Fire Department (2011-2021). Cardenas is an inspiring math teacher at Springman Middle School in Glenview, where her passion for helping students develop academically and personally make her a successful and popular educator. Lopez's career in the service professions has spanned a range of roles, including military service, emergency medical service, law enforcement, and education. Serafin Gil has encountered and addressed public health and environmental challenges across the globe through his work in environmental management and humanitarian support. He recently coordinated the deployment of emergency supplies (e.g., hygiene kits) to flood and earthquake-affected areas in eastern Afghanistan.

The Distinguished Alumni Awards event takes place on Thursday, Sept. 29, at 6 p.m. at the TenHoeve Center, Room 1610, 1600 East Golf Road, Des Plaines, Ill. The event is open to the public and free to attend. Visit oakton.edu/alumni to RSVP to attend, and to learn more about this year's honorees, as well as past Oakton Distinguished Alumni Award recipients.

Since 1969, Oakton has educated more than 500,000 students from Chicago's northern suburbs and beyond and has issued more than 30,000 credentials. Oakton's Office of Alumni Relations continuously works to create and facilitate meaningful opportunities for alums to engage with the College and each other.

For more information, contact the Office of Alumni Relations at alumni@oakton.edu or 847.635.1813.