Oakton celebrates Asian American and Pacific Islander Heritage Month

Des Plaines, Ill. (March 28, 2023) -
Kick off Asian American and Pacific Islander (AAPI) Heritage Month early by attending one of Oakton College's events - free and open to the public - to learn more about the AAPI community and culture and to support local AAPI artists, activists, and businesses. Though AAPI Heritage Month is observed nationally during the month of May, Oakton's series of events will begin in April to align with the College's academic calendar.
"More than 20% of our students identify as Asian American and Pacific Islander, the largest ethnic group among students of color. We want to ensure all students and community members have opportunities to engage and learn more about the AAPI community," said Dear Aunaetitrakul, senior program manager for the Center for Organizing Minority Programs to Advance Student Success (COMPASS) and the Asian American and Native American Pacific Islander Serving Institutions (AANAPISI) Program.
Oakton became the first community college in Illinois to receive the Asian American Native American and Pacific Islander Serving Institution (AANAPISI) designation in 2020. AANAPISI is one of eight federally designated Minority-Serving Institutions (MSI) programs established by the U.S. Department of Education. The AANAPISI program provides federal funding for colleges and universities and works to improve the availability and quality of higher education for Asian American and Pacific Islander (AAPI) college students. To learn more about opportunities for AAPI students at Oakton,
please visit us online
.
"Our students, faculty and staff have put together events to celebrate the diversity of the AAPI community. We invite everyone to celebrate with us," said Aunaetitrakul.
Asian American Talent Night
Tuesday, April 4, 6 - 8 p.m., Des Plaines Campus
Celebrate the 2023 Asian American Pacific Islander Heritage Month at the Asian American Talent Night. Watch Oakton's AAPI community, including faculty, staff, and students, showcase their talent.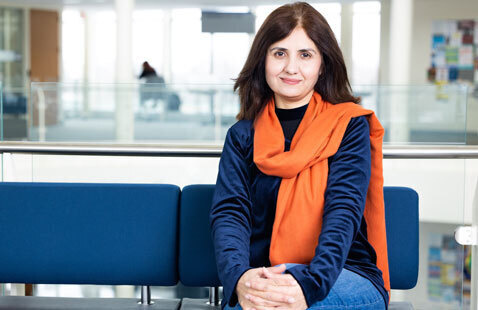 Gender Equality and Women's Empowerment in Pakistan
Wednesday, April 5, 9:30 - 10:45 a.m., in-person (Des Plaines Campus) and virtual
Join Assistant Professor in the Department of Sociology at the International Islamic University, Islamabad, Pakistan, Rabia Ali to discuss gender equality and women's empowerment issues in Pakistan.
Currently, Ali is a Fulbright Scholar in Residence at Harper College. She received the Australia Award for her doctorate from the University of New South Wales in Sydney, Australia, and was a Fulbright fellow at Brown University (2019-2020). Ali specializes in the sociology of gender, and her expertise includes globalization, higher education, women's empowerment, women's leadership, violence against women, identity, culture, work and occupation, and qualitative research methods.
Creating Justice Symposium: Celebrating the Contributions of Arts to Social Justice Movements
Friday, April 14, 1 - 7 p.m., Des Plaines Campus
Gather at Oakton to watch artists and activists share their work in presentations, performances and workshops. All sessions are free and open to the public. Refreshments will be provided throughout the day, and the event will culminate in a free shared dinner and musical performance.
This important event has taken place at Oakton since 2012. Featured presenters and performers include the following individuals and organizations: Dorothy Burge, a fabric and multimedia artist and community activist; Deep Time Chicago, an art/research/activism initiative; Chicago Desi Youth Rising (CDYR), an organization empowering Chicago youth to combat racial, economic, and social inequity; Psalm One, a recording artist; Open Architecture Chicago, a collaborative group of volunteer design professionals and students dedicated to the pursuit of advocacy and social change through the built environment in and beyond Chicago; and many more.
To Be Brown and Gay in the USA
Tuesday, May 2, noon - 1:30 p.m., virtual
Immigration, race, and LGBTQIA2+ rights have been headline issues in recent decades. Still, the experiences of individuals whose identities cut across all three issues have remained invisible to most. In this talk, Anthony Christian Ocampo, Ph.D., addresses the reasons behind invisibility and the struggles that LGBTQIA2+ people of color face in order to be seen, not just by the public but also by their immigrant families, ethnic communities, and the mainstream gay community. Drawing on the experiences of Latino and Asian American gay men, Ocampo chronicles the creative strategies they employ to embrace their identities and create community, even while facing racism and homophobia in their everyday lives.
Ocampo is a professor of Sociology at California State Polytechnic University, Pomona. He is the author of "Brown and Gay in LA: The Lives of Immigrant Sons" and the "Latinos of Asia: How Filipino Americans Break the Rules of Race," featured on NPR, NBC News, Literary Hub, and the Los Angeles Times.
Asian Night Market
Friday, May 12, 5 - 9 p.m., Des Plaines Campus
Stop by Oakton's second annual Asian Night Market to support local AAPI-owned businesses.
For more information about these and other events at Oakton, please
visit our events website
.