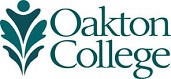 Future Exhibitions
Skyway Conference Art Competition
March 25 – April 28, 2018
This juried art competition features student artwork from Oakton as well as the College of Lake County, Elgin Community College, McHenry County College, Moraine Valley Community College, Morton College, Prairie State College, and Waubonsee Community College. The exhibition showcases a wide variety of media, including paintings, prints, photographs, ceramics and digital art.
Public Reception: Sunday, March 25, 1 - 3 p.m.

Kindred Spirits: Recent Work by Kathie Shaw and Corey Postiglione
May 10 – June 21, 2018
Kathie Shaw and Corey Postiglione are a married couple who have shared a studio for ten years. This situation has informed the work of both artists by creating a place for the interchange of dialogue and critical ideas between them. The paintings of Kathie Shaw (M.F.A. from the School of the Art Institute of Chicago and Master of Architecture from University of Illinois-Chicago) are inspired by decorative ironwork where the artisan creates fluidity from rigid material, making allusions to iron's strength and use for safety while displaying a graceful delicacy. The ironwork pattern works both as a formal device and metaphor. Corey Postiglione (Professor Emeritus at Columbia College Chicago) uses the intertwined oval form as a metaphor for interconnected relationships on both a personal and global scale. In the language of relationships, the more complicated and confusing, the more cooperation and compassion are required. The images of intertwined and disconnected ovals reference these various states.
Public Reception: Thursday, May 10, 5 - 8 p.m.

Sculpting a Chicago Artist: Richard Hunt and his Teachers Nelli Bar and Egon Weiner
July 12 – September 14, 2018

Richard Hunt developed his talent in the 1950s at The School of the Art Institute of Chicago with the guidance of two dynamic teachers—Nelli Bar and Egon Weiner. Bar and Weiner were both of a generation of artists who fled Europe after the rise of the Nazi regime and made Chicago their new home for their artistic ambitions. Both received their education in European academies under prominent teachers during the 1920s. Bar taught Hunt during his adolescence, and Egon Weiner was his college professor. Bar continued to make an impact on Hunt beyond his schooling as he recalls: "She has influenced me as a person over our 30-year relationship." Hunt also remembered Weiner for "his exuberance and nurturing manner, and for being a bundle of energy." This energy influenced and inspired his student. Hunt's mastery developed so rapidly that the Museum of Modern Art purchased one of his sculptures in 1957 just after his graduation and eventually, he evolved into one of the most prominent Chicago sculptors and an international master. This exhibition is part of Art Design Chicago led and funded by the Terra Foundation for American Art.
Public Reception: Thursday, July 12, 5 - 8 p.m.