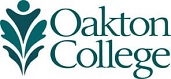 Future Exhibitions
OakArt 2020
April 2 - 24, 2020

Oakton's art students exhibit their paintings, drawings, ceramics, 3-D, digital art, and photography.

Public Reception: Thursday, April 2, 5 - 8 p.m.
---
Jay Boersma: The Consistency and Variety of His Vision
May 7 – June 25, 2020

Jay Boersma's work has evolved over a long career. He has changed from black and white to color photography, from one format to another, and from film to digital, but his eye, concern for composition, and his interest in depicting the world remain constant. He says, "I remain fascinated by the built world and its endless variety of human-made structures, environments, and details and the unique ways in which these are transformed by age, use, and—in particular—the act of photographing them." This retrospective exhibition will include work from his early years in Providence, his photos that were part of the Changing Chicago project, his haunting images of empty and abandoned spaces, and the sometimes colorful and always beautiful images of the streets from places he has traveled.

Public Reception: Thursday, May 7, 5 - 8 p.m.
---
Patrick Miceli: Played Out
July 9 – September 18, 2020

Over the past several years, Patrick Miceli has been using the image of the shoe intermittently, mainly as a project idea for his ceramic classes. Intrigued with both the results and the process, he fabricated pairs of ceramic shoes, firing the results with various surface treatments. By using shoes as images in his work, he has also discovered the cultural impact of the shoe industry that promotes athletic shoes as an emblem of status, not only within the culture at large but also in a variety of subcultures. Shoes have become such a sought after status symbol that a criminal black market has evolved around them related to economic inequality, gangs, and drugs. Miceli's Played Out is also about the significance of identity, attachment, and desire.

Public Reception: Thursday, July 9, 5 - 8 p.m.