Wherever you are learning — whether on-campus, hybrid, or 100% remote — you are a valued part of Oakton's community. We are here to support your ambitions and provide you with the tools to succeed as an online student.  
The best time to start (or resume) your academic journey can be right now. Oakton has a variety of 8- or 16-week courses that begin in August, September, October, January, May and June. Gain confidence with one course or view all of Oakton's Online Certificates or Degrees offerings. You can obtain general education requirements and earn a transferrable associate in arts degree as well as several professional certificates.
Your virtual classroom will be led by faculty who are not only experts in their fields, but approachable practitioners who are passionate about your experience. Learn more about how to put your plans into motion.
 "Do the research, plan ahead, and ask questions, and you will find feedback and all the help you need for it."

- Greg Kaprynzk, Oakton Online Student

 
Find Out if Online Learning is Right for You
The ideal online student is self-motivated, organized and disciplined. Online classes require as much time and effort as those taught in a classroom. Be prepared to work hard for your grades before you enroll. If you are not sure about taking an online class, take these two five- to ten-minute surveys on the Online Assessment System for Internet Students (OASIS) website to evaluate your study skills and/or learning style, and discover tips for making the most out of your online experience.
Getting Started
Apply to Oakton (if you're not currently enrolled)
Register for Classes (online on myOakton or in person with a photo I.D. at the Enrollment Center on either campus)
Funding Your Education
Online courses are assessed tuition plus an additional $50/course online technology fee. Financial Aid is available to all who qualify. Remember to also apply for scholarships!
Spotlight: Academic Support Offices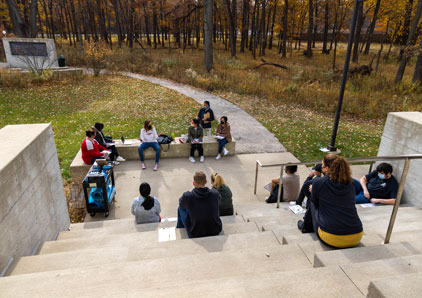 Academic Advising
Oakton's academic advisors are professionals with advanced degrees who are ready, and willing to assist you with your educational needs. Whether you are seeking a certificate to enhance your job skills, a technical/vocational degree to get you into the labor force, or a degree to transfer to a four-year institution, advisors will meet you one-on-one to help you with your academic planning.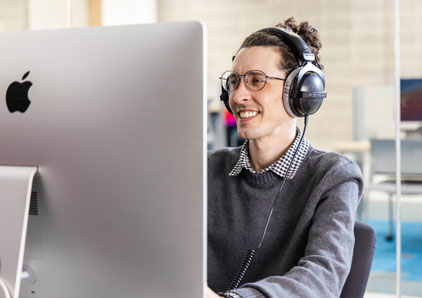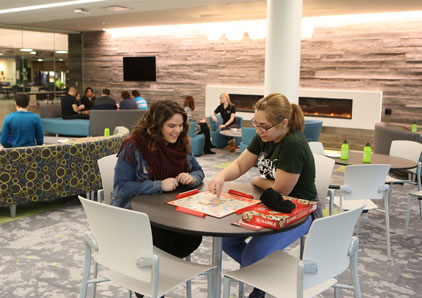 Tutoring Services
All of the same Academic Support Services are available for our online students as those who study on-campus. This includes tutoring; meet virtually with experts in writing, math, science, accounting, and more. Online students are welcome to use our on-ground facilities and are encouraged to meet with offices in person anytime.
FAQs
No. In addition, all distance learning students are charged in-district fees and tuition, regardless of where they live.
In some cases you do.
If you wish to take English or Mathematics courses, you will need to take Oakton's placement tests. For further information and a schedule of testing dates, contact the Testing Center.
If you have already completed the prerequisite for an Oakton English or Mathematics course in another college, you can submit a transcript or send verification that you completed the prerequisite before you register. Out of district students needing Oakton Math and/or English placement exams, please contact the Online Learning Office, onlinelearning@oakton.edu, 847-635-1970.
If you have questions about the placement test requirement, contact the Advising Services department.
In most cases, yes. Students are expected to purchase a textbook(s) for most online courses. You can check what text is required for your online course(s) at the Oakton Bookstore at either campus or online. Be sure the course section number matches your online course section number. For example,"0C1".
Note: Some courses use textbooks that come packaged with an Access Code for the course, included in the cost of the text, if it is new. Used texts will not have an active access code, and will require the student to purchase an access code separately.
All instruction will generally be via the Internet. However, check the course description. Some instructors have scheduled on-campus lab sessions and/or presentations, which are mandatory. In addition, approximately half of our online courses require on-campus testing. Alternative arrangements for exams can be made for students who live at a distance which prevents taking their exams on-campus.
Online courses are subject to the same refund policies as conventional Oakton credit courses. See Withdrawal from Classes for more information. The schedule/bill statement you receive when you register will include the exact dates for drop deadlines and the amount of refund you may expect. You may also contact the Enrollment Center for more information.
Every effort has been made to make Oakton Online courses as technologically accessible to the widest variety of students as possible. Students need to have access to a computer and an Internet connection and any additional hardware/software as specified for a particular course. Students who don't have a computer can use computers available in the open labs on either campus. 
Using D2L Brightspace
Before enrolling in an online course please visit the System Check page; this page will verify your browser version, browser settings and display settings on your computer.
Recommended Hardware/Software Requirements
Students enrolled in online courses have the convenience to access their courses anywhere, anytime. To have a rich learning experience, free of technical issues; it is recommended that online students have access to a computer with the following hardware and software requirements:
Screen Size
Operating Systems
Microsoft® Windows® 7 or newer
Mac OSX 10.6 or latest
Linux chrome OS
Mobile Operating System Native App Support
iOS 7 or newer
Android 2.3 or latest
Computer Speed and Processor
Use a computer 4 years old or newer
1 GB of RAM
2 GHz processor
40 GB of Hard drive
Internet Speed, Software, and Email
Broadband, wireless high-speed Internet connection such as DSL or cable
Have an email account
Internet Browser, such as Microsoft Edge, Firefox, Google Chrome
Basic software applications (Microsoft Office). If you don't want to purchase Microsoft Office, as a student with Oakton email address or any educational institution email address, you can download Microsoft Office 365 for free.
Adobe Acrobat Reader
Up-to-date Antivirus program
Assistive Technology Software
Kurzweil 3000 (for Windows or Mac. Reads the Web for Chrome or Firefox. Has other great features)
JAWS (for Windows 7 and newer. Works with the latest versions of Microsoft Office, Google Docs Internet Explorer 11, Edge, Firefox  & Google Chrome)
NVDA (for Windows 7 and newer. Supports for latest version of Firefox, Google Chrome and Microsoft office)
VoiceOver (for Mac. Use VoiceOver to read text on Mac. Can be used to edit seamlessly in Grade 2 Braille. It provides greater control while using a Mac)
Recommended Browsers
Note: These are the minimum browser requirements needed for using D2L Brightspace.
D2L Recommended Desktop Browsers

| | |
| --- | --- |
| Browser | Supported Browser Version(s) |
| Microsoft Edge | Latest |
| Mozilla Firefox | Latest |
| Google Chrome | Latest |
| Apple Safari | Latest |

For Tablet and Mobile
Tablets and mobile devices such as smart phones should have the latest native browser. Be aware that many features of D2L Brightspace will not function fully or in some cases at all on tablets and mobile devices so students should not expect to be able to complete a D2L Brightspace course without access to a PC or Mac.
D2L Tablet and Mobile Recommendations

Device

Operating System

Browser

Supported Browser Version(s)

Android

Android 2.3 version or latest version

Chrome

Latest

Apple

 

iOS 7 or latest version

Safari

Latest

Chrome

Latest version for the iOS browser.

Windows

Windows 10

Edge, Chrome, Firefox

Latest of all browsers, and Firefox ESR

*Note:
If you are using Safari,

 

you should disable its pop-up blocker when using D2L Brightspace. To disable the pop-up blocker, click Safari in the menu bar and uncheck Block Pop-Up Windows. Failing to disable the pop-up blocker may prevent you from completing some tasks in D2L Brightspace, such as composing discussion board messages. If you continue to have problems try using the Firefox web browser which can be downloaded for free at

 

www.mozilla.com/firefox.
Ensure that your browser has JavaScript and Cookies enabled.
For desktop systems, you must have Adobe Flash Player 10.1 or greater.
If you need to talk with an academic advisor, contact Academic Advising Services at 847-635-1741 or

 

email.
If you need more information about course content, call or e-mail the instructor.
If you need information about your bill, call the cashier at 847-635-1639.
If you need information about obtaining the books and materials for your course, call the Online Learning office, 847.635.1971.
Oakton College's relevant programs comply with Illinois licensure requirements; however, the college is in the process of making a determination if its programs meet the licensure requirements of the other 49 states, territories, and the District of Columbia. If information is not available, you should contact the appropriate licensing entity to determine if a program meets the educational requirements for licensure or certification in the state where you live or work.

The U.S. Department of Education requires institutions to disclose educational requirements for programs leading to professional licensure or certification. An institution must make this information readily available to enrolled and prospective students about whether a program that leads to professional licensure or certification meets educational requirements.

Students are strongly encouraged to review the information about a prospective program before enrollment to determine if it meets the educational requirements in their desired state. Students can also contact the appropriate licensing agency for information and guidance before beginning a program outside of their home state.

NC-SARA has worked with other entities to create the Professional Licensure Directory. It provides general contact information and is updated twice annually. It does not house regulations or requirements.

Students may find the contact information helpful in their research on state licensure agreement based on their location. Professional licenses contact information is provided for the top five programs based on enrollments by NC-SARA institutions:


Counseling
Nursing
Psychology
Social work
Teacher Education
Oakton is a part of the Illinois Community Colleges Online (ILCCO), a consortium of Illinois community colleges working together to provide leadership, facilitate collaboration and share resources in online and technology-enhanced education.
Oakton is a member of the National Council for State Authorization Reciprocity Agreements (NC-SARA) and authorized through Illinois and the regional SARA organization to provide online instruction to students residing in the 49 states that are members of SARA. Oakton is also authorized to teach students residing in California.