Mechanical design and computer-aided design (CAD) are essential skills for creating three-dimensional models used to make prototypes for consumer products, tools and machinery. This field requires a unique mix of imagination, creativity, and problem-solving skills, and can lead to a variety of in-demand careers in industrial design, engineering, and general technologies.
At Oakton, we offer a first-rate Mechanical Design/CAD program. We offer an Associate in Applied Science (A.A.S.) degree and several certificates.
Our courses are designed to educate you in computer-aided design and mechanical prototyping and simulation techniques. You will learn about the core principles of this field as well as get the chance to perform lab-based digital manufacturing work. You'll also receive training to stay current with the latest technology, trends and in-demand skills of this challenging and rewarding industry.
With classes meeting in state-of-the-art labs on our campuses, you will gain hands-on practical experience with equipment and software comparable to what's used in real-life industry settings, including Autodesk, Revit, SolidWorks and MasterCam. Our lab equipment includes three-dimensional printers, Laser cutters, and computer-controlled prototyping equipment.
Degrees and Certificates
We offer a number of different paths for you if you want to study mechanical design and CAD.
Job Outlook
Potential Careers
Mechanical Designers
Plant Designers
Mechanical Drafters
CAD Technicians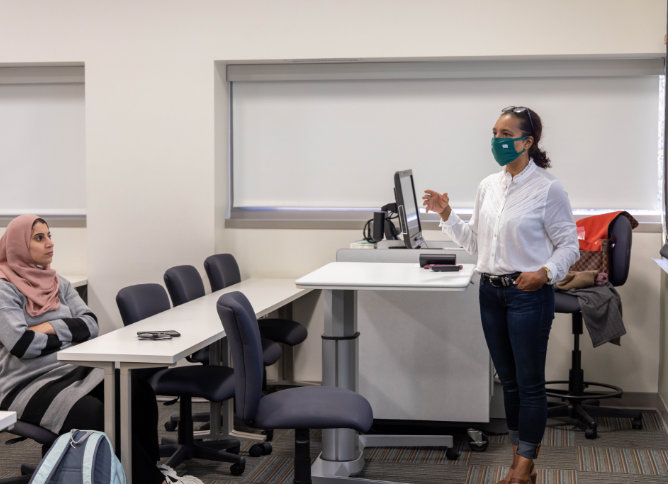 Meet Your Faculty and Experts
Jeff Cabay
Instructor of Engineering
B.S. University of Illinois, Chicago
M.S. University of Illinois, Chicago
jcabay@oakton.edu
847.376.7265
Office: 2116, Des Plaines
Joseph Cirone, Chair
Chair, Mechanical Design/CAD, Manufacturing
Professor, Mechanical Design/CAD and Computer Networking
B.S. Northern Illinois University
M.S. Northern Illinois University
jcirone@oakton.edu
847.376.7612
Office: P131, Skokie
Boguslaw Zapal
Associate Professor of Manufacturing and
Coordinator of CAD/Mechanical Design and Manufacturing
A.A.S. Oakton College
B.S. University of Rzeszow, Poland
M.S. University of Rzeszow, Poland
bzapal@oakton.edu
847.376.7707
Office: P135, Skokie
Joseph J. Kotowski
Professor, Mechanical Design/CAD and Mathematics
Chair, Engineering Department
B.S. University of Illinois
M.A. DePaul University
M.S. Northwestern University
koto@oakton.edu
847.635.1268
Office: B231, Skokie
Ken Albert
Engineering Technology Instructor
Niles West High School

Bill Barkules
Vice President, Engineering
ADA Metal Products, INC

Barb Butnik
Human Resources
Federal Mogul Sealing Systems

Jamie Chanez
RIGHTech Fabrications

Michael Cotton
Marketing Manager
OSG Tap & Die Inc.

Steve Elliott
New Product Development
Nu-Way Industries
(Precision Metal Products)

Jim Fitch
VP of Engineering
Nu-Way Industries

Tony Gemigani
General Manager
MAU Co, R.F.

Howard Goldstein
Owner
Stonecutters, INC

Timothy Hipp
Manager-Manufacturing Engineering
Manufacturing Technology
U.S. Fabrication
S&C Electric Company

Steven J. Huy
President
Ultra-Metric Tool Co.

Erik Iverson
President
Chicago Dial Indicator Co. Inc.

Jonathan Lawrence
Manufacturing Instructor
Evanston Township High School

Keiko Mimuro
Marketing Specialist
OSG Tap & Die Inc.

Gloria Kapica
Human Resources
United Displaycraft, INC.
Amy Romito Kastory
Executive Director
NSERVE
Chris Sikora
Associate Professor – Computer Aided Design
Elgin College

Gregory Turnowski
Engineer
Woodward MPC

Ron Worth
Principal, Co-Founder
Flashcut CNC


Ex-officio Members

Joseph Cirone 
Professor-Chair: Mechanical Design/CAD & Manufacturing
Oakton College

Boguslaw Zapal 
Assistant Professor-Coordinator: Mechanical Design/CAD & Manufacturing
Oakton College
What's Next?
We are glad you are considering attending Oakton College. No matter where you are in your decision-making process, we are here to help you with your next steps. Whether you're ready to apply now, need information on paying for college or have questions and want to contact someone, we're here to help.