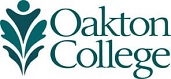 Apply for Concurrent Admission
Concurrent Junior or Senior High School Students
High school juniors and seniors who have earned a minimum cumulative grade point average of C or higher are eligible for concurrent enrollment. High school students, applying for concurrent enrollment, may not apply online.
To apply for concurrent enrollment
The following forms must be completed, signed by your high school counselor and parent/legal guardian, and submitted to Amy Donash, Student Recruitment and Outreach, Room 1740, Des Plaines no later than one week prior to the start date of the class:
Official or unofficial high school transcript

Do you have a question about
Oakton Community College?