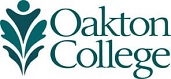 Portfolio Assessment
Credit for successful completion of a course may be awarded upon the recommendation of an expert faculty assessor, the dean of the division, and Assistant Vice President for Academic Affairs, upon assessment of a portfolio of evidence that demonstrates the student has acquired the knowledge, skills, and behavior commensurate with successful completion (grades of A, B, or C) of an Oakton course or courses.
Process for Portfolio Assessment
Student must complete 15 credits
Complete the Student Application for Prior Learning Assessment Credit through Portfolio Assessment. Identify the credit they are seeking at Oakton on the form. A separate application must be submitted for each class credit sought through portfolio review.
Application is forwarded to chair of academic discipline(s) for which credit is sought.
Meet with chair of academic discipline or assigned faculty member to discuss request and determine if there is a possible method for assessing credit via portfolio. (A portfolio is a collection of artifacts/evidence that demonstrate that a student has reached the learning outcomes attached to the class credit sought)
The plan will need approval of division dean before the student creates the portfolio.
When plan is approved, you must submit a nonrefundable, $50 assessment fee to the Registrar's Office.
When approved, faculty member establishes timeline and proceeds with the review.
If credit is approved, faculty member completes appropriate forms and sends to Registrar's Office to have credit award.
You will be notified by Registrar Services when credit is posted.
For more information about credit for prior learning experiences, contact Advising Services at 847.635.1700.
Find out about transferring credit from a U.S. or foreign college or university.