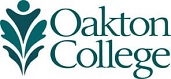 About the Library
Library Mission Statement
The Oakton Community College Library supports student success by encouraging critical thinking, promoting information literacy, and providing innovative teaching, resources, and services that meet the information needs of our community.
Library Services
The library provides a variety of in person and online services for our users.
Some of our on site services include:
Some of our online services include:
Grab 'n' Go Services
You can fill out our Grab 'n' Go form to have the item(s) you have requested online in our catalog to be checked out, bagged, and placed on our library's Grab 'n' Go table. You can retrieve your items during counter services hours.