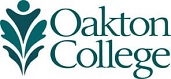 About the Library
Library Mission Statement
The Oakton Community College Library supports student success by encouraging critical thinking, promoting information literacy, and providing innovative teaching, resources, and services that meet the information needs of our community.
Library Services
The library provides a variety of in person and online services for our users.
Some of our on site services include:
Some of our online services include:
Walk-In Tutors in the Library
The Learning Center provides a free walk-in Writing tutors in the library. If you need tutoring on other subjects or at other times, please visit the Learning Center's Live Schedule.