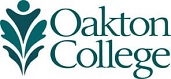 Off Campus
Founded and conducted by Glenna Sprague, Oakton professor and coordinator of music, the Piano Ensemble has amazed and delighted sold-out audiences throughout the country. The group performs classical, ragtime and popular music as well as symphonic repertoire transcribed for the multi- pianos.
Off Campus
OakArt is an annual exhibition at the Koehnline Museum of Art, which celebrates the creativity of student artists and their amazing work.
Off Campus
The THRIVE Summit, hosted by Oakton's 365 Black Network, will provide a space for individuals to gather and share their experiences as African-Americans in the higher education field.