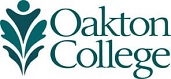 Oakton Trustee Emeritus Receives Prestigious ICCTA Achievement Award
(July 1, 2019) Joan DiLeonardi, Oakton Community College trustee emeritus, received the prestigious 2019 Ray Hartstein Trustee Achievement Award at the Illinois Community College Trustees Association's banquet on June 7 in Itasca. DiLeonardi received the award for her year of service which ended this past April. A co-recipient, she shared this year's honor with Kishwaukee College Board of Trustees Chair Bob Johnson. They were chosen from seven nominees statewide.
The Ray Hartstein Trustee Achievement Award recognizes exemplary service by a currently serving community college board member. The award is named after Ray Hartstein, former ICCTA president and founding chairman of Oakton, where he served as a dedicated board member for 35 years. Oakton's Skokie campus is named in his honor. DiLeonardi, a resident of Des Plaines, was first appointed trustee in 2001 and had the opportunity to serve on the board with the award's namesake.
"This is meaningful for me to receive an award named after Oakton's founder," DiLeonardi said.
She served as a board officer for 12 years, including five terms as chair. DiLeonardi did not seek a fourth term on the board after 18 years of service. During her tenure, she also led the college's Presidential Search Committee in 2015. DiLeonardi held numerous leadership roles in ICCTA, including secretary, treasurer and chair of two committees.
ICCTA Vice President Bob Thompson commended DiLeonardi for her years of dedication: "At the core of Joan's service is her passion for students and their success. She has provided financial support through the establishment of an endowed scholarship fund, attended numerous student events and graduations and lobbied for educational funding and student aid. She also nurtured Oakton's student trustees, ensuring these emerging leaders were fully supported in their roles."
At the banquet, Thompson also included a special message for DiLeonardi: "Joan, like your colleague Ray Hartstein, you are truly an inspiring and inclusive leader who has encouraged us to work cooperatively and become better board members. Thank you for all you've done for community colleges."