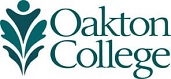 Oakton Golfer Wins Regional Tournament and Qualifies for Nationals
(Oct. 9, 2019) Oakton Community College sophomore Nzelu "NZ" Maitha (Schaumburg, Schaumburg High School) etched his name in the school record book by accomplishing something no other male golfer has done – win the NJCAA Region IV Tournament.
Maitha played lights out in the tournament held at the Prairie View Golf Course in Byron Oct. 3-6, posting a 76 average finishing as medalist over more than 60 golfers from Illinois. With his first-place performance, he earned the right to represent the Oakton Owls in the National Junior College Athletic Association (NJCAA) Division II Men's Golf Championship scheduled May 19-22, 2020, at the Twins Hill Country Club in Joplin, Missouri. This marks the fifth time in six years an Oakton male golfer has qualified for nationals.
"The key to my success was staying in the present and just having fun," Maitha, who also qualified for nationals last year, said. "When I get too serious, I'm apt to make more mistakes. I just took it one shot at a time. The greens were fast and long on the course but I knew if I just played my game, the score would take care of itself."
Owls head coach Louis Walker, now in his 12th year at Oakton, knows how rare a player Maitha is: "He did what was expected of him and went in as the favorite. Competing at nationals last year, NZ knows what to anticipate and how to handle the pressure. He just keeps getting better and took care of business."
Maitha also cemented his place in Oakton history completing the "trifecta" of being named to the Illinois Skyway Collegiate Conference (ISCC) All-Conference Team, NJCAA Region IV Tournament All-Region Team and qualifying for nationals in the same season. This is the second year in a row Maitha has accomplished this rare feat.
Earlier this year, he took home more hardware as the ISCC Male Golfer of the Year. In conference play, Mathia had the lowest average (76) of all golfers. Freshman Nate Dunker (Niles, Prospect High School) finished just half a stroke behind to earn recognition as an all-conference player.
"This just continues the tradition with Oakton golf," Walker says. "Having a medalist in both region and conference play is something you don't see too often. Players like NZ and Nate are not only great golfers but outstanding young men who are stellar representatives of the college and the community."