Accreditation
College Accreditation
Higher Learning Commission
The Higher Learning Commission (HLC) is an independent corporation and one of two commission members of the North Central Association of Colleges and Schools (NCA), which is one of six regional institutional accreditors in the United States. The Higher Learning Commission accredits degree-granting post-secondary educational institutions in the North Central region. View the 2017 Assurance Argument.
Illinois Community College Board (ICCB)
Oakton College District 535 is an officially recognized community college district by the  Illinois Community College Board. The educational program of the district meets the criteria and standards prescribed by the Illinois Community College Board.  ICCB Certificate of Recognition.
Program Accreditation
Health Information Technology
The Oakton College Associate in Applied Science in Health Information Technology is accredited by the Commission on Accreditation for Health Informatics and Information Management Education.
CAHIIM
info@cahiim.org
233 North Michigan Avenue
21st Floor, Chicago, IL 60601-5800
312-233-1100
Fax: 312-233-1948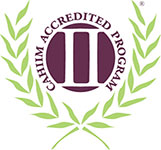 Horticultural Therapy
Oakton's Horticultural Therapy Program, offered in partnership with The Chicago Botanic Garden, is accredited by the American Horticulural Therapy Association (AHTA).
This certificate does not complete the requirements for registration with the American Horticultural Therapy Association; students are encouraged to check with AHTA for additional requirements.  Introduction to AHTA history, purpose and requirements will be covered during coursework.
Medical Laboratory Technician
The Oakton College Medical Laboratory Technician program is accredited by the National Accrediting Agency for Clinical Laboratory Services.
NAACLS
naaclsinfo@naacls.org
5600 N. River Road, Suite 720
Rosemont, IL 60018
773.714.8880
Fax: 773.714.8886
Nursing
Oakton's nursing program is approved by the Illinois Department of Financial and Professional Regulation.
IDFPR
Board of Nursing
320 West Washington Street
Springfield, IL 62786

Also, accredited by: 

Accreditation Commission for Education in Nursing (ACEN)
3343 Peachtree Road NE
Suite 850, Atlanta, GA 30326
404.975.5000.
Physical Therapist Assistant
The Physical Therapist Assistant Program at Oakton is accredited by the  Commission on Accreditation in Physical Therapy Education (CAPTE).
CAPTE
1111 North Fairfax Street
Alexandria, Virginia 22314
703-706-3245
accreditation@apta.org
website
The only accreditation agency recognized by the United States Department of Education and the Council for Higher Educational Accreditation to accredit physical therapist assistant education programs, CAPTE establishes and applies standards that assure quality and continuous improvement and reflect the evolving nature of education, research and practice.

Substance Abuse Counseling
The Substance Abuse Counseling program is accredited by the Illinois Alcohol and Other Drug Abuse Professional Certification Association (IAODAPCA) and meets the association's requirements to sit for the CADC (Certified Alcohol and Other Drug Counselor) certification examination.


Additional Accreditation Notes and State Approved Programs
Basic Nurse Assistant Training
Oakton's BNAT program is an approved Basic Nursing Assistant Training Program by the Illinois Department of Public Health.
More information about approved Basic Nursing Assistant Training programs can be found at Illinois Nurse Aid Testing.
Medical Assistant
The medical assistant program will have it's first cohort of students complete the program in 2019, and at that time will be applying for accreditation.
Early Childhood Center
Oakton's Early Childhood Center is licensed by the Illinois Department of Children and Family Services and accredited by the National Association for the Education of Young Children (NAEYC).