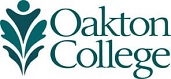 Oakton Student Named Outstanding PTA Student of the Year by State Chapter
(April 29, 2019) Oakton Community College physical therapy assistant (PTA) student Emma Battaglia (Chicago, Northside College Prep) has been honored as the Illinois Physical Therapy Association's 2019 Outstanding Physical Therapist Assistant Student of the Year. The award, which recognizes a student who excels academically and has an outstanding record of service to his or her academic institution and to the professional association, was presented Saturday, April 6, at an IPTA conference in St. Charles.
"I'm very excited to be honored with this award," says Battaglia, who will be graduating from Oakton May 21 with an associate in applied science degree. "I'm so appreciative of all my Oakton professors and this is a sweet way to end my academic time at the college."
Battaglia is the president of Oakton's PTA Club that helps to raise funds to benefit the physical therapy profession as well as fellow students. She also has tutored other PTA students and volunteered for Futures Unlimited, an event at Oakton that provides eighth-graders with the opportunity to explore diverse careers in science, technology, engineering and mathematics (STEM).
"Emma exemplifies altruism, mentoring and dedication to the profession of physical therapy," says Melissa Mendoza, Oakton PTA professor. "I can't wait to see her continued growth as a young professional after graduation."
Oakton PTA Professor and Chair Luanne Olson adds, "I have witnessed Emma help students who were having trouble understanding complex material. She was always patient and persistent, guiding them toward a successful completion. If I had a cloning tool, I would make sure to have an 'Emma' in each year of the program because she is a definite asset."
A former elementary teacher for Chicago Public Schools, Battaglia decided to switch gears to attend Oakton in 2016. She was inspired to join the medical field after seeing how her grandmother improved dramatically from a stroke with the help of physical therapists.
"I noticed what an impact the physical therapists had on my grandmother and how after a few months, she was like a new person," Battagila notes. "Being a former educator is to my benefit as there are a lot of teaching aspects in the physical therapy profession. I'm so glad I made a career change, and Oakton did a tremendous job preparing me for a new profession."
Battaglia plans to take the Illinois PTA licensure in October and has career aspirations of working in a hospital with trauma patients.
Oakton PTA students routinely excel in the field. Over the last five years, Oakton students have received a 100 percent passing rate on the state licensure exam. Oakton student and Northbrook resident Melissa Mayer was presented with a $2,000 scholarship from the IPTA Foundation at the April 6 banquet.