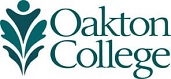 Lincolnwood student to address graduates at Oakton's May 21 commencement
(April 30, 2019) Lincolnwood resident and associate degree candidate Venice McNish has been chosen to deliver Oakton Community College's commencement address Tuesday, May 21.
After taking the life-changing step in moving from Jamaica to the United States, Oakton provided McNish the support she needed to be successful.
"When first I came here, I found I could not use my international high school transcript," McNish explains. "I quickly found Oakton due to its proximity to my home, and when I was taking my placement exam, I met my first friend, GED Manager Jordana Lambropoulos, who became like a mother, aunt and trusted advisor to me like she has for so many other students."
McNish enrolled in the college's high school equivalency preparation program, and upon completion, she pursued and earned a basic nurse assistant training certificate. Instead of working in a hospital, she stayed at Oakton to pursue an Associate of Liberal Arts degree while working three jobs.
McNish also found time to get involved in Oakton's extracurricular activities, noting, "I got the opportunity to tell parts of my story to students through my various roles on campus as an orientation leader and a peer advisor."
She has shared her perspective and experiences with others as Emerging Leaders mentor, Student Government Association senator, orientation leader, peer advisor, Skokie Events Team leader and Art Club secretary. She also has worked closely with Oakton's TRIO program, a federal student outreach program designed to identify and provide services to low-income individuals, first-generation college students, and individuals with disabilities to progress through college.
"I'm excited to share my experiences with the other graduates and hopefully provide inspiration to others with similar stories," she says. "I always tell people, 'If I can do it, anyone can.'"
McNish plans to transfer to a four-year institution to earn a degree in nursing, and she hopes to pursue an advanced degree in the same field while working in an area where she gets to help people.
"It has been a few years now, and I've moved on from a difficult environment and situation," McNish says. "I look back on what I've been through and the emotional impact it has had on me, and I smile because in the end I am stronger. I'm excited about what the future holds."
Oakton's commencement will take place at 7 p.m. Tuesday, May 21, in the TenHoeve Center on the Des Plaines campus, 1600 E. Golf Road. The ticketed event for family and friends of graduates will be broadcast live at 7 p.m. on Oakton's cable channel, aired in Des Plaines, Glenview, Park Ridge and Skokie in addition to streaming on the college's website, www.oakton.edu.