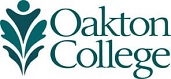 Oakton men's student-athlete of the year from Nigeria to leave big shoes to fill after graduation
(May 10, 2019) Oakton Community College associate degree candidate Bukola Abdulwahab-Omotose, a resident of Chicago, owns the distinction of being named the first recipient of the college's Outstanding Men's Student-Athlete of the Year.
Abdulwahab-Omotose, who goes by the nickname "Bukky," grew up in Llorin, Nigeria, and attended British Nigerian Academy. His heart was set on making a name for himself in his favorite sport of soccer, and he undoubtedly left his mark at Oakton.
"Winning this award makes me very happy," Abdulwahab-Omotose says. "It's quite an honor to be so appreciated and this honor means a great deal to me."
During his second year playing for the Oakton Owls, the explosive forward led his team in scoring with 58 points (24 goals, 10 assists), ranking fourth in the nation in goals scored. He helped his squad reach the finals of the National Junior College Athletic Association (NJCAA) Region IV Championship and a 13-7 overall record.
With all his success on the field, Abdulwahab-Omotose raked in numerous accolades. Besides earning a spot on the 2018 United Soccer Coaches Junior College Men's Division I All-America Team, he was named to the NJCCA Region IV All-Region Men's Soccer Team and the Illinois Skyway Conference Men's Soccer All-Conference First Team. Oakton also decorated him as the men's student-athlete of the month for September 2018.
"I came to the U.S. because there are so many different levels of soccer that you have more time to develop your skills," Abdulwahab-Omotose explains. "In Nigeria, you must be good enough to go from high school to international competition; there is very little opportunity in between."
When he wasn't scoring goals, Abdulwahab-Omotose enjoyed making an impression on others as an Oakton student ambassador. Launched in 2006, the program gives current students the opportunity to share their experiences with prospective students and to serve as a resource for new students making the leap to college.
"I loved interacting with other people and encouraging others to want to come to the college," he says. "I was able to relate to visiting students, especially international students. As an ambassador, I tried to make everyone feel comfortable and tell them how good the education is here."
Currently, Abdulwahab-Omotose boasts a 3.41 GPA. This fall, he will attend the University of Illinois at Chicago, where he plans to continue his soccer career and major in political science.
According to Abdulwahab-Omotose, Oakton significantly prepared him for his future endeavors: "The atmosphere at the college is amazing. I achieved so much here because I listened to my coaches and my professors who cared so much about my success."