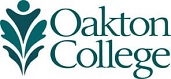 Oakton Cross Country Runner Earns All-America Honors at Nationals
(Nov. 15, 2019) Oakton Community College cross country runner Souleya Ibrahim (Chicago, Mather High School) earned All-America honors at the 2019 National Junior College Athletic Association (NJCAA) Division I Women's Cross Country Championship held Saturday, Nov. 9, in Albuquerque, New Mexico.
Ibrahim took 13th place in the 5K race with her time of 18:52. Runners who finished in the top 15 received All-America honors. The freshman crossed the finish line ahead of more than 270 runners from across the country.
What makes Ibrahim's accomplishment even more remarkable is that the runner was suffering from a lingering quad strain she sustained finishing first at the NJCAA Division I Region IV and Illinois Skyway Collegiate Conference (ISCC) Cross Country Championship hosted by Carl Sandburg College on Saturday, Oct. 26.
"Souleya's performance at nationals was solid and our projection for her was to finish in the top 20 overall," Kenvar Pujoe, Oakton cross country coach, says. "Despite the pain, she exceeded expectations, capturing 13th overall, and deserves much recognition for her perseverance."
Ibrahim's honors this year also include being named ISCC Runner of the Year and to the ISCC All-Conference Team.
"As for next season, the sky's the limit for her," Pujoe says. "We just have to focus on improving her speed and adding a few more miles to her weekly repertoire."