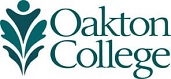 Oakton's Amelia Baldwin Selected for Prestigious Cooke Foundation Scholarship
(May 11, 2020) For the third time in five years an Oakton Community College student was selected for the prestigious Jack Kent Cooke Foundation Undergraduate Transfer Scholarship. Amelia Baldwin (originally from Summit, Ill.) was chosen for her academic ability and achievement, financial need, persistence, leadership and service to others.
Nearly 1,500 students from 311 community colleges applied for the 2020 Cooke Undergraduate Transfer Scholarship and 50 were selected. The scholarship is worth up to $40,000 per year to complete a bachelor's degree at a four-year college or university. Not only a cash award, Cooke scholars are enrolled in a cohort of exceptionally promising students who also receive counseling and guidance from the foundation.
Baldwin was enrolled as a full-time student, worked at Trader Joe's and maintained a second job when awarded an internship in the Amato Laboratory at Northwestern University.
"This semester I am finishing my last four classes at Oakton remotely," said Baldwin. "I haven't made a final transfer decision, but I have been accepted to Emory University in Atlanta. If I go there, I'll study biology and public health on the pre-med track."
Baldwin's interests lay in medicine and epidemiology. Now in the time of COVID-19, these interests seem particularly prescient.
Baldwin took advantage of many opportunities at Oakton. She served as vice president of scholarship in Oakton's Phi Theta Kappa honor society, took Honors courses and served two semesters in the Student Government Association. She also received counseling from the college's TRIO program manager.
"Espy (Oakton TRIO Manager Esperanza Salgado-Rodriguez) was a great help to me, providing advice in choosing the right courses, applying to colleges, getting financial aid and applying for the Cooke Scholarship," Baldwin said.
Her biology professor, Suzanne Ziegenhorn, also was instrumental in getting Baldwin involved in undergraduate research opportunities that led her to a position at Northwestern University.
Cooke Scholarships fund the costs of attending college not covered by other financial aid, plus academic advising, stipends for internships, study abroad and opportunities to network with other Cooke Scholars and alumni. In addition, after earning a bachelor's degree, each Cooke Scholar will be eligible for a scholarship for graduate school worth up to $50,000 a year for up to four years.