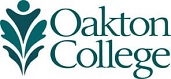 Oakton's Karen Suarez to Give Student Address at Virtual Commencement
May 22, 2020) As a first-generation college freshman, Karen Suarez attended Oakton without having preconceptions of what she would find. To learn more about college life, she attended Fall Fest—an annual Oakton tradition held in the second or third week of school. Like a trade show for clubs, activities, academic services, and majors, students walk along the aisles talking to representatives at all the different tables to learn about the many programs available at Oakton.
However, when she tried to walk past the ANDALE table, Program Coordinator Jessica Ibares stepped out to speak with her and made an immediate impression.
"Jessica is a powerful personality and very inspirational!" says Suarez. "Meeting her brought me into the ANDALE community. Through the program, I was introduced to so many of my friends, made connections throughout Oakton, and learned the value of being active in a community."
Andale, which means "let's go" in Spanish is used as an acronym for the Association for the Nurturing and Developing the Advancement of Latinx's in Education. Within Oakton's Department of Access, Equity and Diversity, it helps members explore existing college resources, learn about Latinx identities in current affairs, and engage with their peers. Thanks to other members she met in the program, Suarez became more familiar with different opportunities available and used ANDALE as a springboard into other leadership initiatives at Oakton.
She became a member of Emerging Leaders, a program of instruction that trains a cohort of students in how to organize and lead student groups and develop lifelong leadership skills. Members earn a stipend and build a personal plan for success. Suarez then ran for student government and was elected as the Student Member of the Board of Trustees. In addition, Suarez became president of the French Club, a member of Phi Theta Kappa, and secretary of the Latinx Club.
At the end of spring semester, Suarez was chosen to give the student address for Oakton's 2020 virtual commencement ceremony.
Growing up in Des Plaines, Suarez graduated from Maine West High School, and took enough core courses for college credit while in high school, that it freed her to explore a variety of electives in the honors program at Oakton. She speaks three languages fluently and works a part time job in Oakton's Language Lab at the Des Plaines campus as an assistant and a tutor for Spanish and French.
When asked about her first-year experience at Oakton, she says, "What I have loved is being able to explore many different interests with professors, staff, and other students who are passionate about what they are doing."
Her major, she says, is something that she is "still figuring out." But her experiences and involvement at Oakton allow her to explore her interests at many levels.