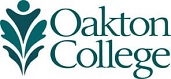 Two Oakton employees earn national "40 under 40" award
(Oct. 13, 2020) Displaying the quality of talented leadership at Oakton Community College, Glenview resident Kelly Iwanaga Becker and Mount Prospect resident Simi Khurana received the American Association for Women in Community Colleges (AAWCC) 40 Under 40 Award at the organization's national leadership virtual conference Friday, Oct. 9.
"There are thousands of community colleges across the country, so having two of our own named to this prestigious list of outstanding young leaders gives us extreme pride," Oakton President Joianne Smith, Ph.D., says.
Supporting the advancement of women in community colleges is a core value of AAWCC, and the award recognizes outstanding female leaders under the age of 40 working at community colleges.
Iwanaga Becker serves as the College's assistant vice president for institutional effectiveness and strategic planning, a position she has held since March 2019. At Oakton, Iwanaga Becker leads efforts at the College to assess its practices and make data-informed decisions to ensure students from all backgrounds have access to equitable learning opportunities.
"I am truly humbled by this recognition," Iwanaga Becker says. "As a first-generation college student, I understand how higher education can be life changing. I am proud to be a part of the Oakton community that provides access to higher education for so many students and is working to improve the student experience and ensure more students are able to meet their educational goals. It is moving for me to be honored for work that I am so passionate about."
Prior to Oakton, Iwanaga Becker served as the associate director of student affairs assessment and planning at Northwestern University. She earned her Ph.D. in sociology and master's degrees in education and sociology from Northwestern University and received a bachelor's degree in sociology from Boston College.
Khurana started full-time at the college in 2008 and is currently the Student Life and Campus Inclusion coordinator.
"I am honored to receive this award," Khurana says. "As a student life professional, I share this honor with the hundreds of Oakton students I have worked with to learn the skills of team building and organizational development. Together, we have made Oakton a place where it is possible to learn life skills beyond the classroom. I also appreciate that Oakton recognizes and supports women leaders and continues to provide opportunities to grow and improve my skills."
Khurana also serves as the advisor for Oakton's chapter of the Phi Theta Kappa International Honor Society (PTK). Under her leadership, the chapter continually receives recognition. Recently, the Illinois Region of PTK honored her with the Outstanding Advisor Award. Also under her tutelage, Oakton's chapter received the Five Star Outstanding Chapter designation.
For 10 years, Khurana has co-led Oakton's student-playwright competition, "Play-On," which attracts submissions from colleges throughout the Midwest. She has also acted in many theater productions and directed benefit performances of "The Vagina Monologues" to support women's shelters and performing arts scholarships.