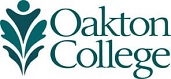 Commencement 2022
Congratulations, Class of 2022 #OaktonGrads!
The 2022 commencement ceremony will be held in-person at the Rosemont Theatre. All graduating students from winter 2021, summer 2021 and spring 2022 semester are invited to walk in the ceremony. 
Event Details
Monday, May 16 at 7 p.m.
Rosemont Theatre
5400 N. River Road
Rosemont, IL
Make sure to check your email and follow Oakton on social media for the latest news about the event. Instagram, Facebook, LinkedIn, Twitter.
Mark your calendars 
Commencement Ceremony Rehearsal
Friday, May 13 at 12 p.m. in Room 1610 at Des Plaines. 
Refreshments will be provided. Attendance is highly encouraged!
Questions regarding the ceremony, caps and gowns, and tickets: Office of Student Life and Campus Inclusion, 847-635-1699
Did you miss the deadline to petition to graduate? Contact the Enrollment Center, 847-635-1700.