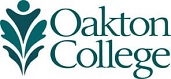 Frequently Asked Questions
GENERAL TOPICS
What is a credit hour? A credit hour, sometimes called a semester hour, refers to the number of credits you receive toward graduation for each class you complete successfully. Credit hours are determined by the number of hours per week you are in class for that course. For example, a class meeting from 9 - 9:50 a.m. three days a week generally will earn three credit hours.
What is the difference between a full-time and part-time course load? Oakton defines a full-time load as 12 or more credit hours. A part-time load is anything less than 12 credit hours.
What is the difference between the Associate of Arts or Associate of Science degree and the Associate of Applied Science degree? These degrees all require a minimum of 60 credit hours but are different in purpose. The Associate of Applied Science (A.A.S.) degree prepares students for entering a career field, while the Associate of Arts (A.A.) and Associate of Science (A.S.) degrees satisfy the requirements for the first two years of a baccalaureate degree. Therefore, A.A. and A.S. degrees require a greater number of general education courses.
What is a certificate? A certificate consists of career courses in a chosen program. Students who already have a degree frequently pursue a certificate when changing fields.
What courses will meet the requirements for a degree or a certificate? The College Catalog lists all requirements for degrees and certificates by program. You must familiarize yourself with the Catalog, since this document is an agreement between you and the College. If you have not skipped more than one semester since you enrolled at Oakton, you may follow the requirements listed in the catalog for the year you began at the College or for the current year. If you meet all the requirements listed for a degree or certificate, you will earn that degree or certificate.
If I want a degree or certificate that Oakton does not offer, what should I do? Through a joint agreement or chargeback, Oakton district residents may attend another community college that offers a curriculum not available at the College and still pay the in-district tuition rate. For more information, check the catalog.
How do I get a chargeback? To arrange a chargeback, contact the Enrollment Center.
Does Oakton offer courses over the Internet? Yes, several. See Oakton Online for more information on distance learning opportunities.
Do I have to take all the required courses in one semester? No. That would be impossible. You may schedule your courses according to your needs.
How many courses should I take? This can only be answered by the student. In general, students who work full time may prefer to take fewer classes than students who do not work or work part time. You need to judge how to balance your work schedule with your academic load, social life and other responsibilities.
How much time will I be expected to study for each course? This varies among individuals. Learning Center personnel suggest students spend two - three hours outside of class for each hour in class per week. Therefore, a full-time student should allow 24 - 36 hours of study time per week.
How do I know what English and math courses I should take? Students who plan to take credit courses at Oakton must take Oakton's assessment tests. However, under certain conditions, you can have this requirement waived. For example, you may have completed English 101 with a grade of 'C' or better at another institution, or you have completed 24 hours of college work with a cumulative 2.0 GPA. However, receiving a waiver for the mandatory assessment requirement does not relieve you from fulfilling Oakton's math and English requirements.
Do I have to take developmental classes, especially since they do not count toward a degree? To address any deficiencies you might have and to prepare for higher level college courses, you should take any recommended developmental courses. In most cases, students will not be allowed to take a higher level course in English or math if they do not complete the prerequisite developmental course. Although these courses may not count toward graduation, they prepare students for success in college-level course work.
If I test into English 072/075 can I take other courses? Speak with an advisor to determine which courses, if any, you are able to take in addition to your English as a Second Language courses.
I have taken classes at another college or university. Will they count at Oakton? Many courses from other colleges and universities transfer in to Oakton.  To find out, if your specific courses transfer, you must have your transcript evaluated. The evaluation process consists of two steps:
Have an official transcript mailed to Oakton from your former college or university. Contact Registrar Services directly to start the process.
Complete a Request for Evaluation Form available on the myOakton portal.
How much does an Oakton transcript evaluation cost? Oakton does not charge a fee for evaluating a transcript.
I have a degree from a college or university in another country. How will it transfer? To receive credit for coursework from another country, the foreign transcripts must be evaluated by Educational Perspectives.  Oakton requires the catalog-match approach.  For more information, view Educational Perspectives' guidelines for students at Oakton Community College. Remember to also complete an Evaluation of Credits Request form in the Enrollment Center at Oakton that lists Educational Perspectives as the transfer institution
How long does it take for a transcript evaluation? It takes approximately six to eight weeks for a transcript evaluation. Once the transcript is reviewed, you will receive notification in the mail. Schedule an appointment to see an advisor after you receive the evaluation to discuss how the courses align with your Oakton degree requirements.
How do I calculate my GPA? Divide the grade points earned by the number of hours taken. Grade points are figured by multiplying the number of credit hours of each course by the grade earned. (Grades from A to F are worth from 4 to 0 points.)
How do I raise my GPA? You must obtain higher grades in your courses. You also may re-take courses in which you have received a low grade. If you re-take a course at Oakton, the higher grade will count in your GPA, but both grades will continue to show on your transcript. In other words, replacing a D or F grade with an A, B, or C will raise your GPA more quickly than taking new courses and averaging the grades. Another way to achieve academic success is to plan your course load carefully to enable you to be more successful and to ask for tutoring assistance and study skills strategies in the Learning Center.
Can I eliminate F grades on my transcript? F grades remain on a transcript but can be removed from the grade point calculation.  Students may petition, one time only, through the Forgiveness Policy explained in detail in the Catalog. If you have 15 hours or less of F grades, you must complete 15 consecutive hours of 100 level courses (or higher) with grades of C or better. If you have 16 hours or more of F grades, you must complete an equal number of hours of 100 level courses (or higher) with grades of C or better.
Once you have completed the courses — meaning the semester has ended and the grades are submitted — you may petition in writing to the Enrollment Center asking to take advantage of the Forgiveness Policy.
I got a D in a course; should I take it over? This depends on the course and its importance in your major. If you believe you can do significantly better in the class the second time around and it is necessary for your major or chosen career, it is probably a good idea to retake the course. Both grades will appear on your transcript; however, the higher of the two will count in your GPA.
Will my grade point average from other colleges transfer? No, your GPA starts over at Oakton. And, if you transfer to another college after Oakton, you must report all institutions you have previously attended. Your combined GPA may be calculated for admission purposes, but your GPA from Oakton and from other colleges you have attended will not transfer.
I have experience in the field for the degree I am earning. Will I receive credit for job experience? The Catalog lists provisions for students to receive college credit for job experience if they compile a portfolio and follow procedures that are available from Advising Services.

TRANSFER PLANNING
Do I need an associate degree to transfer? No. However, obtaining an associate degree first may be beneficial. If you are transferring out of state, check with that college or university. If you are transferring to an Illinois institution, Oakton recommends you complete the Illinois Articulation Initiative (IAI) General Education Core Curriculum prior to transferring.
How do I go about transferring? Transferring to another college or university typically involves several steps. Meeting with an academic advisor to review your chosen school's requirements is always helpful. Academic advisors can provide guidance about the best process to follow with respect to the information needed for acceptance. You can also check out the transfer guide which lists all public and most private colleges in Illinois with direct links to information regarding transfer requirements.
I attended Oakton to earn some credits and plan on returning to my previous college. If I do well at Oakton, can I be readmitted at my previous institution? Generally this is the best approach to return to your previous college. Try to obtain as much information as you can about what you need to do to be readmitted.
How do I determine what college is best for me? A good start is to research colleges using the computers in Advising Services or books such as Baron's Guide to Colleges. Also, speak to college representatives, teachers, counselors and friends for information and help in making a decision.
How do I find out what is the best college for my major? Talk to teachers, counselors, people in the work force and college representatives when they visit Oakton. Check out the resources on transferring available in Advising Services on computer databases and in printed guides.
When should I apply to my transfer college? The application generally will include deadline dates. If you plan to start at another college in the fall, you typically should submit your application by March.
Do I have to report all colleges I have attended when I complete an application? Yes.
How do I get my Oakton transcript sent to another college or university? Complete a Transcript Request Form or send a letter to the Enrollment Center. Be sure to include your full name, social security number or student ID number, the address where the transcript is to be sent and your signature. Each transcript copy costs $10. 
How do I know if a course will transfer to another college? The college you are transferring to makes that decision; however, some agreements have been made to assist students in planning. The Illinois Articulation Initiative (IAI) guarantees that courses satisfying the General Education Core Curriculum will transfer from Oakton to more than 96 participating colleges in the state. To provide further help in the transfer planning process, Advising Services staff have developed transfer guides and maintain information about transferring Oakton courses to other institutions.