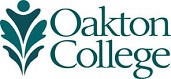 College Level Examination Program (CLEP)
Note: The Testing Center will not be administering CLEP exams from February 27 through May 15.
Earn college credit at Oakton in many courses through CLEP (College Level Examination Program) testing. A national test site for CLEP, Oakton offers students the opportunity to take tests within the Learning Center and send their results to any college or university that accepts CLEP exams for credit.
CLEP offers 35 different exams in various disciplines (see The College Board).
One CLEP exam costs $80.00.
To register for an exam, go to The College Board website.
Registering for an exam provides you with a payment receipt and a Ticket ID, but you must contact the Testing Center to schedule the date and time you wish to take the test.
The tests are given at the Des Plaines Testing Center, Room 2409.
A maximum of two tests or one test with an essay, may be attempted on the same test date.
The service fee is payable on the test day:
$15 service fee per test to Oakton Community College. Check, credit card or cash.
Schedule your CLEP test at least one week in advance by calling the Testing Center in Des Plaines (847) 635-1939.

You must show photo identification before the test will be administered.  Oakton credit will be awarded only to students who have already earned at least 6 hours credit at Oakton wiith a grade of "C" or better.