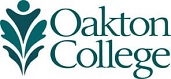 Two Oakton Students Named to Phi Theta Kappa Illinois All-Academic Team
(April 25, 2019) Oakton Community College students Joshua Rodriguez (Skokie, Niles North High School) and Morton Grove resident Gabija Ulcinaite have been named to the Phi Theta Kappa (PTK) Illinois All-Academic Team, which was recognized at a recent ceremony in Springfield. The two were also honored at Oakton's Board of Trustees meeting April 23.
"We are so proud of our students and the way they exemplify the values of Phi Theta Kappa," says Student Life Coordinator and PTK Chapter Advisor Simi Khurana. "While being recognized by the honor society is important, what's even more important is the opportunities provided to them to grow as scholars and leaders. We encourage our members to get involved in the chapter as good things happen for those who do, and that can lead to scholarships, making connections with key stakeholders and other benefits. "
Rodriguez is currently studying engineering at Oakton with plans on attending a four-year college to major in nuclear engineering and mathematics this fall. His career goal is to become a nuclear engineer. Rodriguez says Oakton helped set him on the right path after an earlier unsuccessful attempt at a local four-year college.
"Oakton gave me a second chance and helped me to figure out how to be a successful student," explains Rodriguez, who will graduate from Oakton May 21. "At the time I attended a four-year college, I wasn't mature enough or focused on what I wanted to do. All that changed by coming to Oakton with the smaller class sizes and individualized attention. The college greatly empowered me to thrive academically."
Rodriguez is a four-time President's Scholar with a 3.95 GPA and was vice president of fellowship for Oakton's PTK chapter, where he co-led a project that earned an international Distinguished College Project Hallmark Award. As a Student Government Association senator, he spearheaded an initiative to raise student wages, co-led the elections committee and was part of the conventions committee. He also is a member of the Hispanic Club, serves as a student member of the Student Success Team and sits on the Study Breakfast Committee.
"I'm blessed and honored to have represented Oakton as a PTK All-Illinois Academic Team member and thank everyone who has helped me," Ulcinaite says. "Ever since moving to the U.S. almost three years ago, it took me a bit to integrate myself into a new culture to feel like I belonged. Oakton has provided me with the chance to be the best version of myself I can be. Along the way, I was surrounded by like-minded and motivated students who became family for me. The college has fulfilled all of my academic expectations and made me believe that anything is possible through faith in yourself."
Originally from Lithuania, Ulcinaite boasts a 4.0 GPA at Oakton, serves as the college's PTK chapter president and is a Student Government Association senator. She also served as vice president of the Illinois Northeastern Region for PTK. Ulcinaite was nominated for the Student Laureate of the Lincoln Academy of Illinois and she earned the International Student Laureate Program award.
Ulcinaite will receive her associate degree in May after concentrating on studying business courses. She has already been accepted to several four-year colleges across the country but has not made a decision about her next stop on her educational journey. However, she does plan on majoring in both marketing and management information systems.
Phi Theta Kappa is the premier honor society recognizing the academic achievement of community college students to grow as scholars and leaders and is made up of more than 3.2 million members and nearly 1,300 chapters in nine nations.