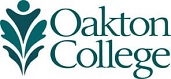 Oakton Receives Environmental Sustainability Award from Institute for Supply Management
(May 2, 2019) The Institute for Supply Management-Chicago (ISM-Chicago) named Oakton Community College the Silver Winner of its 2019 Midwest Region Sustainability Award, which honors organizations for their contributions to promote sustainable business practices.
Oakton was one of only four organizations honored at ISM-Chicago's April 18 sustainability award ceremony. The institute recognized the college for its project, "Creating a Sustainable Campus."
"I was pleased to accept this award on behalf of the college," Sustainability Specialist Debra Kutska says. "Oakton is proud of our many sustainable initiatives. We work hard to provide students with engaging experiences in the environment and act as a leader to the communities we serve through mindful use of resources and thoughtful stewardship of our land."
Oakton's wide-ranging sustainability initiatives encompasses the college's grounds, building operations and educational curriculum.
In its award application, the college noted actions taken over the last year to meet the community's sustainability goals. Those actions included growing more than 600 pounds of organic produce in the community garden at the Des Plaines campus and donating it to a local food pantry, exposing hundreds of students to environment-themed learning experiences while earning general education credits through the offering of a new environmental studies concentration, conducting the college's annual Earth Week and Campus Sustainability Month events for more than 500 individuals and revising its purchasing policy to incorporate a preference for environmentally-sound products, sustainable services and locally owned and/or disadvantaged businesses.
"There is still more work to do, but it means a great deal to know that we have the support of organizations such as ISM-Chicago while we continue these efforts," Kutska says.
For more information, call 847.635.1768.