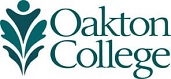 Oakton Women's Student-athlete of the Year Heading to Vanderbilt University
(May 14, 2019) Oakton Community College associate degree candidate Alena "A.J." Alwan (Glenview, Glenbrook South High School) owns the distinction of being named the first recipient of the college's Outstanding Women's Student-Athlete of the Year.
Alwan left her mark playing volleyball at Oakton. As captain and setter for the team, she helped transform the program from winning only one game her freshman year to going 22-10 her second year. For her efforts (1.77 kills per set, 4.21 assists per set and 1.67 digs per set to complement a .221 hitting percentage), Alwan was named to the National Junior College Athletic Association (NJCAA) Region IV All-Region Team and the Illinois Skyway Collegiate Conference (ISCC) Volleyball All-Conference Team. At Oakton, she also played golf two years and was a member of the softball team as a freshman.
Alwan says volleyball has long been her passion: "I learned a lot playing with my two brothers (Alex and Adam). I just love the competitiveness of the game. Oakton gave me an opportunity to continue to play volleyball and that reignited my love for the game. Coach Miguel (Calvillo) was a great influence. We improved so much under his guidance, and he always made sure we were having fun."
While at Oakton, she also was a student employee at the biology lab and served as a mentor in Oakton's Emerging Leader Program. Her hard work paid off as she boasts a 3.92 GPA while taking challenging courses including organic chemistry and anatomy and physiology. This fall, she plans on attending Vanderbilt University, where she plans to major in biochemistry.
But before heading to Nashville, Tennessee, Alwan has one last thing to accomplish at Oakton – participate in the college's summer abroad program in Seville, Spain. Through the program, students study at the International College of Seville (ICS) a private, independent cultural institution, where they have the opportunity to combine classroom lectures with experiential learning through local excursion to museums and historical sites.
"Oakton helped me to get me out of my shell and to become acclimated to college – a big change from high school," Alwan explains. "Not only did Oakton provide me with a great athletic experience, it offered so many opportunities to get accepted into an outstanding university."
Oakton's commencement will take place at 7 p.m. Tuesday, May 21, in the TenHoeve Center on the Des Plaines campus, 1600 E. Golf Road. The ticketed event for family and friends of graduates will be broadcast live at 7 p.m. on Oakton's cable channel, aired in Des Plaines, Glenview, Park Ridge and Skokie in addition to streaming on the college's website, www.oakton.edu.