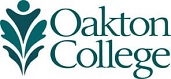 Oakton Among NASA Robotics Mining Competition Top 15 Again
(June 5, 2019) The results are in: Oakton Community College finished 15th out of 48 teams at the 2019 NASA Robotic Mining Competition, marking the sixth straight year Oakton's robotics team (Oaktobotics) ended up among the top 15. Oakton robotics finished 10th in 2018, 13th in 2017, second in 2016, eighth in 2015 and 12th in 2014.
"It's exciting that we did so well at the competition," says captain Luke Paltzer (Skokie, Niles West High School). "Even though our design didn't fare as well well as we hoped in Alabama, we came away with new ideas how to make adjustments for next year. There's always room for improvement."
For the past nine years, the competition has taken place solely at NASA's Kennedy Space Center, but this year's competition was held virtually, with the mining portion held at University of Alabama. In Tuscaloosa, Alabama, teams of undergraduate and graduate students from colleges and universities across the country demonstrated how a robot they built over the past year could autonomously traverse and excavate simulated lunar and Martian soil, known as regolith. While Oakton was one of 10 entries unable to gather regolith, Oaktobotics fared well in the virtual portions, which comprised categories including systems engineering papers, outreach reports and technical presentations.
Oaktobotics comprises students enrolled in an engineering independent study course taught by Angelo Gero, electronics and computer technology lecturer and team advisor. Besides Paltzer, team members include Devery Paltzer (Skokie, Niles West High School), Faran Erfani (Morton Grove, Maine East High School), Jason Modi (Des Plaines, Maine East High School), Jacob Wachala (Northbrook, Glenbrook North High School), Sanjida Alvavi Choudhury (Niles, Niles West High School), Peter Solomon (Skokie, Niles North High School), Matt Slyzis (New York City/Queens High School for the Sciences), Kristian Jasiak (Winnetka, New Trier High School), Jimit Modi (Niles, Maine East High School), Ileana Saavendra (Chicago, North Grand High School), Edward Rosenthal (Lake Zurich, Carmel Catholic High School), Paul Rubio (Pickney, Michigan), Nathan Sugatan (Northbrook, Glenbrook North High School) and Ayush Patel (Des Plaines, Maine East High School).
"The team exhibited excellent teamwork under pressure," Gero says.
Being part of Oaktobotics has been a launching pad for students after they leave Oakton. Former student Luella Mascarenhas went on to become a flight controller for NASA at the Johnson Space Center and Mahavish Mahmood and Inam Sharif became engineers at Commonwealth Edison after Oakton. Oaktobotics alumni Azher Ghandi, Mohan Vegesna and Surya Vegnesna landed engineering jobs as well.
The trip to Alabama was the culmination of more than nine months of hard work. The competition does not impose a spending cap, and while some teams spend considerably more, Oakton's team was able to compete thanks in part to a $20,000 grant from the Oakton Educational Foundation.
In a statement, NASA says next year the Robotic Mining Competition will be known as the Lunabotics competition to reflect the agency's directive to land American astronauts on the moon within the next five years.
The statement says contests such as the one Oakton contends at annually make such lofty goals possible: "This will be sustainable in part because of technologies developed here and our future workforce inspired by this and other NASA competitions."